Write For Us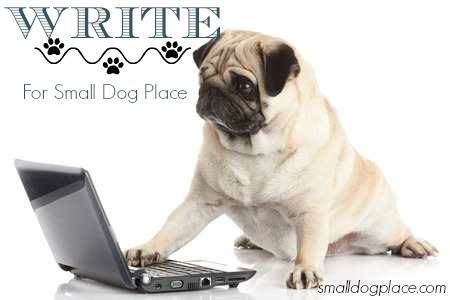 Want to write for us?
by Janice Jones M.A.       Write for Us     Last updated 08-17-2020
Are you a writer wanting to expand your portfolio? 
Maybe a dog lover who also loves to write? 
A breeder, groomer, trainer, veterinarian, or other professional who'd like to get more exposure to their website? 
We want to hear from you.

Do you have some knowledge or skills in a particular area that you would like to share with our readers?  
This site is all about small dogs – breed profiles, grooming, training, health care, day-to-day living, as well as activities you can do with your small dog.

What's in it for YOU?

We will give you up to two links back to your blog, website, or social media platform in your Author bio. These links will be "do follow" unless you are linking to a product page in which case they will be "no follow."


We will promote you through our various social media channels. (You are also welcome and encouraged to promote your article through your own social media outlet


Promotion of your article in our monthly e-zine. Don't believe me?  Sign up for the monthly e-zine to see your own articles


Association with a respected dog website with 10,000 visitors per day


Sorry, but at this time, I can't pay...
Your Article
When you write for us, all submissions must be original and cannot be published anywhere else.


We look for well-researched,  well-written articles that are useful or entertain our visitors.  All must be related to small dog ownership. 


We will edit all submissions for content, clarity, spelling and grammar.  The readers of this site come from the U.S. and Canada, the U.K., Australia and New Zealand mainly but other countries are also represented to a smaller degree.  If you are a non-native speaker of English, please have a native speaker edit your work before you submit.


Most of the articles submitted are published with little to no change.   We may change things here and there to improve SEO.


If I need to make substantial changes, we will send you the final version, for your approval.  Usually that doesn't happen.  If I find that the material is inappropriate or requires too much editing, I may reject it at first.  If this is the case, you may rewrite it and submit again for consideration.
Design Specifics
Articles should be between 1500 and 2000 words and should include at least a couple of subsections and links if appropriate to outside sources such as research articles or very high quality sites.  You are welcome to add personal antidotes if they will enhance your article.


You can provide me with photos or I can find appropriate graphics to complete your article. Please identify photo sources with a link back to the source.  If photos are your originals, please indicate that as well.


Please remember that we only publish articles relevant to small dogs or that address the needs of dog owners.

If you choose to do a profile for a breed that has not been done previously, you can download our breed template and fill in the information based on your own knowledge.  All small dog breeds are listed on Small Dog Breed List.
Please remember to provide all your details (website address, your name, anything you'd like to include in your author bio.)


The author must submit an author bio that includes, education, training, experience and/or interests.
You can also provide a small head shot if you like.  This is an excellent way to enjoy the free promotion, so we'd love to hear from you.
Your Author Bio
NEW
I receive a very large number of requests for guest post opportunities most of which are written by marketers or wannabe authors with little or no real expertise or experience.  Owning a dog for 6 months does not make you a dog expert.  
As of May, 2020, I am only accepting articles from individuals who have a specific expertise through education, training, or experience.  This expertise must be show through your author bio.  

If you Want to Write for Us, Please...

No Wikipedia type articles


No articles that have been published elsewhere.  We do a plagiarism check before the article goes live, and periodically thereafter.  Should we find that the article has been published elsewhere, we will immediately remove your article and your link and ban further requests.


No articles that are substantially similar to other material on this website


No affiliate links or links to pages on your website with substantial affiliate links


No Sales Copy. 




Major Reasons Why an Article Might Be Denied
We'd like to think that anyone who loves to write about dogs would have the skills and appropriate motives to do so.  Unfortunately, while this is rare, it does happen.  Some of the reasons why we have refused to publish an author's post may include the following:
The article was published elsewhere or there is substantial plagiarism within the article.
The article is poorly written.  This includes a sizable number of technical errors such as grammar or spelling or it could be due to weak content that adds little.  An example of this might be: "The Shih Tzu is a small dog.  It is a toy breed.  It can be registered with the AKC...and so forth."  

I know this sounds crazy, but I have received articles very similar to this.

The article was written by a non-English speaking author.  If English is not your native language, then you must have it proofed before submitting.  It requires too much of my time to edit.
The link you are requesting points to a page on your site this basically a sales page containing numerous affiliate links.
Your website is either brand new, does not rank well, or your sole purpose in publishing an article is to improve and increase your backlinks.
Small Dog Place Reserves the Right...
Links
We check for broken links on a monthly basis.  If your link comes up in our link checker as broken, we will remove the link.
Edits and Plagiarism Checks
Each article is edited and checked for plagiarism before publishing.  Minor edits are corrected that include things such as punctuation mistakes, subject-verb agreements, and so forth.  If I read through the article and decide it needs more than simple edits.  I will let you know.
I also make changes to articles to improve on-page SEO.  This may include rewording the title, adding more keywords, or removing keywords, and adding subheadings, among others.
Finally, there are times when I feel it necessary to increase the length of the article, not to add fluff, but to add personal experience or expertise on the subject.  I always let authors know when I do this.
Improving Old Pages
I try to keep Small Dog Place up-to-date with the latest information, especially when new research findings may add to or contradict what has previously been published.  I do this with my own work and with that of the guest authors.  If you would prefer that I not do this to your post, then I would suggest you publish elsewhere.  
NEW:  Guidelines for Digital Marketing Agencies
If you are a freelancer working for a digital marking company or a writer being paid to promote a product, I expect to be paid for the article.  If I am asked for a do-follow link to a sales page, it is considered a sponsored post in my opinion and the article will be labeled as such.  Please contact me for rates.
Ready to Write for Us?   Great

Please fill out the form below and we will contact you shortly.  Please give me several suggestions for topics. Please send me the url where your links will point.  If you don't have any in mind, just ask and I can give you some ideas to ponder.
NOTE:  Your IP address including your country comes through to me every time you submit the form, so please, be honest.  Don't tell  me you are in the US when I can plainly see you live somewhere else.
---
Does This Article Deserve Your Thumbs Up?
We always appreciate your support and encouragement.  Your thumbs up means so much to us.  Please like this article.
If you find this page or any page on Small Dog Place Helpful, or useful in anyway, I'd love it if you would click the small heart found on the bottom right of each page.
You can also share or bookmark this page -- just click on the: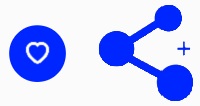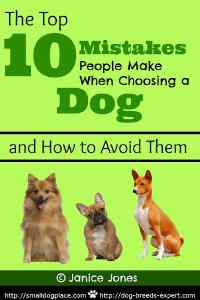 Free Monthly Newsletter
Sign Up for Our Free Newsletter and get our Free Gift to You.

my  E-book, The Top 10 Mistakes People Make When Choosing a Dog (and how to avoid them)