Chews for Small Dogs:  Choose Healthy and Safe Over Dangerous
Chews for Small Dogs     |Published 06-16-2021
Choosing the best chew treats for your dog is more important than many pet parents realize. Nutritious chews play a vital role in a dog's health and happiness.
The right chews boost your dog's dental hygiene, are a part of her overall diet, and a vital way to strengthen teeth and jaws while alleviating stress and tension. Quality chews are essential for all dogs and even more so for small dogs.
Let's take a closer look at the value of nutritious chews for small dogs and how to choose the right one.

Why Dogs Need Chews 
All dogs need to chew. From the time they are puppies, dogs find great comfort in chewing, and it continues to be a pleasurable pursuit for their lifetime.
The discomfort and pain of teething are mitigated by chewing. The stress and anxiety of weaning and then being separated from mom and siblings lead to more chewing. Dogs of all shapes and sizes find solace in chewing and can use it to navigate stressful situations.

In addition to alleviating stress, chewing exercises and strengthens teeth and jaw muscles. Essential for all dogs, this chewing exercise is vital for small dogs who are naturally more susceptible to dental issues due to their smaller mouths.
Dental chews and some chew toys also help break down plaque and tartar and aid your dog's dental hygiene. 

Dogs big and small find chewing mentally stimulating. They explore their world, in part, by chewing. Again, from the time they are puppies, dogs learn about new things by lipping, licking, gnawing, and chewing. This activity stimulates their brains. And, in addition to stress reduction and pain-relief, exercise, and mental stimulation, chewing is fun for your dog.

Delicious, nutritious chews for small dogs and safe chew toys will give your little friend all of the benefits of chewing without shredding your favorite shoes.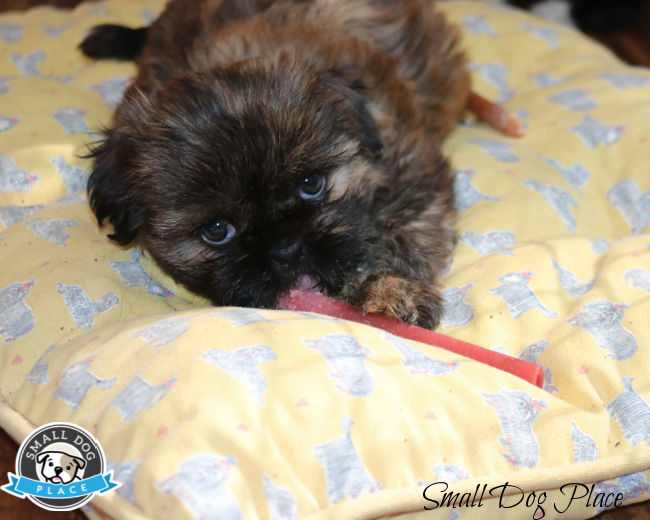 Why Small Dogs Really Need Dental Chews
As important as quality chews are for all dogs, they are truly essential for small dogs. Small dogs face several dental challenges as a result of their tiny mouths.
They are prone to retaining their baby teeth even as adult teeth come in, resulting in crowded teeth, creating more places for tartar and plaque to build up. 
Even the adult teeth of small dogs have shorter roots than do the teeth of larger dogs. This makes the teeth weaker and more profoundly damaged by decay and gum infections.
Further, small dogs with their little mouths and more delicate bone structure are susceptible to early loss of bone density in their jaws, as early as in their first year.
Small dogs face dental problems due to structural challenges caused by their smaller anatomy. It is believed that another contributing factor to their dental issues comes from insufficient "recreational chewing" 
Regular use of safe chew toys and nutritious chews for small dogs strengthens their jawbones as well as their chewing muscles.  
Good dental care, including daily brushing and regular checkups, is important for all dogs but genuinely essential for the smallest breeds. Boost your small dog's oral hygiene with dental sprays and dental chews for small dogs.

How to Choose Chews for Small Dogs
When it comes to choosing dog chews, size really matters. Small dogs struggle to make satisfying use of chews that are too large for them, while big dogs may just swallow a small treat whole, utterly missing out on the pleasures and benefits of chewing.
So yes, size matters, especially with chews for small dogs. But so does consistency.
Small dogs have little teeth with short roots. It is all too easy for small dogs to chip or break a tooth while eagerly trying to chew something too large or too hard for them. 
When choosing chews for small dogs, ask the following four questions:
Can my small dog chew this safely, without harming her teeth? If you can break or bend the chew with your hands, it should be safe for your small dog to chew.
Will this chew fit my dog's mouth? The ideal size chew is just a bit bigger than your dog's mouth. Look for smaller-sized chews and consider tearing larger chews into smaller bites.
Are these rawhide-free treats that are fully digestible? Don't let your dog chew something you wouldn't want her to swallow. If it is toxic or indigestible, it's not a treat but a hazard.
How will these chews impact my dog's diet? Dog chews are not meal replacements, but they do need to be considered as part of your small dog's caloric intake. This calculation is essential with chews for small dogs.
Always Choose Rawhide-Free Treats
Many pet parents offer their dogs rawhide for a chew, not realizing the many hazards contained in that single bone-shaped chew.
Rawhide is made from discarded cow- and horse-hide that has been treated with a noxious brew of toxic chemicals like bleach, arsenic, and formaldehyde to strip it of hair and fat. It is then soaked in glue to make it able to hold the shape it is formed into.
Finally, it is shellacked to make it shiny to appeal to the people who buy it then basted in artificial scents and flavors to appeal to dogs.
Although rawhide has no nutritional value, it is inevitably swallowed by dogs who chew it. When rawhide is swallowed, it can swell up to four times its original size, posing a distinct choking hazard.
Because there is no nutritional value to it, rawhide is largely indigestible, and it sits in your dog's intestines, posing a risk of blockage until it is (hopefully) passed. 
Rawhide chews are cheap, durable, and plentiful. They are also a choking hazard made from toxic chemicals. Do your small dog a favor and always choose rawhide-free treats for any dog in your pack.

Ingredients and Size Matter
In addition to choosing rawhide-free treats and chews for small dogs that are the right size and consistency, it's essential to understand what goes into the dog chew.
Your dog's chews should be made of quality ingredients like those you feed the rest of your family, particularly real chicken meat, milk, and peanut butter.
Beyond the added protein you provide in chews, chews should also include dietary fiber for your dog's digestive system and plenty of healthy fats for healthy skin and coat while boosting heart health.
Balanced with carbohydrates for energy, chews should also be enhanced with the essential vitamins and minerals small dogs need to live their best lives!
What good would chews be if they didn't taste good.  Your dog's chews should be flavored with quality ingredients, which means no artificial colors or additives.
Chews as Part of a Small Dog's Diet
You may not like counting calories for yourself, but it's crucial for your small dog. While a German Shepherd (average weight, 70 pounds) can gain a few pounds without harm, a German Spitz (average weight, 25 pounds) would truly suffer from the weight gain. Work with your vet to determine the best dog food and amount to give your little friend for her best health.
Once you know the proper daily caloric intake for your small dog, use this to determine how much dog food to provide daily.
Rawhide-free treats and chews for small dogs should be used in place of some of your dog's kibble, not in addition to it. In general, you should aim for the treats you offer to add up to no more than 10% of your dog's daily caloric intake.
Adjust the amount of food you offer accordingly.
Remember that your dog values treats based on flavor and consistency, but not size. If your dog loves a peanut butter mini twist, he'll be just as excited to receive half a twist, or even one quarter, as a whole treat.
When obedience training your small dog or working on tricks, you may want to provide multiple treats. Be prepared to divide the treats into smaller portions, so you don't throw off her daily caloric intake. 
Small dogs live big lives, and they need the proper nutrition and health care to support them as they do. Tasty, rawhide-free chews for small dogs play an integral role in their health and happiness. 
Please click image for price and availability
Options for Chews for Small Dogs
NutriChomps creates naturally delicious chews for small dogs and every member of your pack. We manufacture our chews in a state-of-the-art facility that is certified by the Global Food Safety Initiative (GFSI), the same international organization that regulates the production of human food.
Ours is one of the few pet food and treat facilities in the world to earn a GFSI certification. We go the extra mile, because we understand that your dogs, like ours, are family.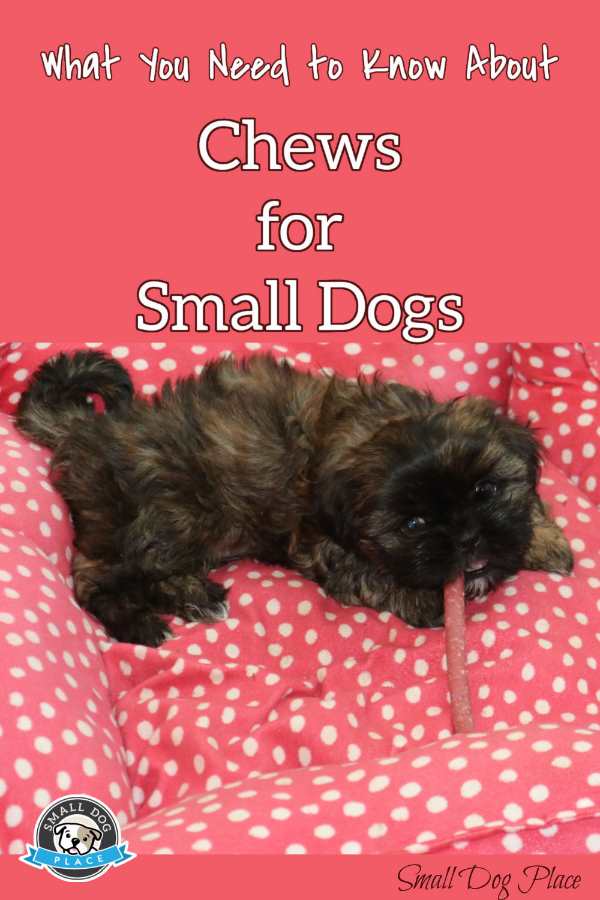 Author Bios
Dog wellness experts at NutriChomps provides updated information on alternatives to rawhide products. Now your dogs can continue enjoying their chew time without sacrificing digestive health. Visit nutrichomps.com for more information on rawhide-free chews.

Does This Article Deserve Your Thumbs Up?
We always appreciate your support and encouragement.  Your thumbs up means so much to us.  Please like this article.
If you find this page or any page on Small Dog Place Helpful, or Useful in anyway, I'd love it if you would click the small heart found on the bottom right of each page.
You can also share or bookmark this page -- just click on the: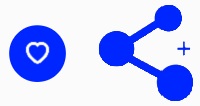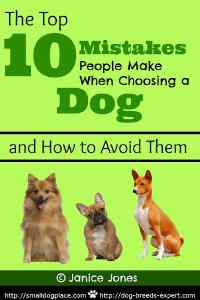 Free Monthly Newsletter
Sign Up for Our Free Newsletter and get our Free Gift to You.

my  E-book, The Top 10 Mistakes People Make When Choosing a Dog (and how to avoid them)