Adult Dog Teeth: 
What You Should Know about Your Dog's Teeth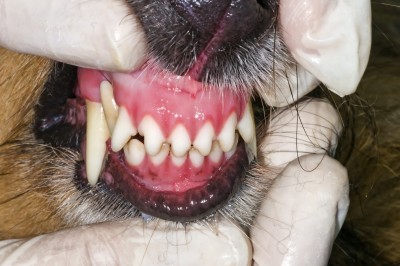 Adult Dog Teeth need good dental hygiene not only to protect the teeth, but for your dog's overall health.  Poor dental hygiene cannot only affect your dog's teeth and mouth, but it can also extend to your dog's vital organs.  The American Veterinary Dental Society reports that 80 percent of dogs show signs of oral disease by age three. 

Dental disease affects the whole body, too. Bacteria from these inflamed oral areas can enter the bloodstream and affect major body organs. The liver, kidneys, heart, and lungs are most commonly affected. Antibiotics are used prior to and after a dental cleaning to prevent bacterial spread through the bloodstream.

There is a difference between plaque and tartar.  Plaque is bacteria mixed with saliva and blood cells that leads to tooth and gum disease.  Tarter, on the other hand, tarter occurs when plaque hardens and firmly sticks to the tooth, eventually wearing down the tissue around the tooth.  So what can you do to keep your dog's mouth healthy and clean?

What Do You Need to Care for Those Pearly Whites?

     Your Shopping List is small.  You will need:
Canine Toothpaste
Canine Toothbrush
If your dog will not accept a toothbrush, consider a rubber finger brush, dental wipes, or gauze.

Tasty Canine Toothpaste
Do not use human toothpaste as it is likely to make your dog sick.  Avoid human toothpaste because it has Xylitol, a sweetening agent that is toxic to dogs. Human pastes also have a foaming agent that is not necessary for our dogs.
Do you have a puppy who is less than one year old?  Please check out our page on Puppy Dental Care for more information specific to puppy dental care.

A dog will swallow a lot of toothpaste while you brush so it is important to use toothpaste designed for dogs.  The canine toothpaste is usually acceptable to dogs because it comes in flavors that dogs prefer such as beef, chicken, liver and even mint. 
Most dogs find the meat flavors yummy which makes brushing a breeze.  If you prefer, you can use baking soda, but dogs may not take to it as easily as commercially prepared canine toothpaste.

Perfect Sized Toothbrushes

A dog toothbrush is smaller than and has softer bristles than a human toothbrush. Many toothbrushes are dual ended, including a regular size and a smaller, tapered end.  Often the tapered end is perfect for small dogs with small mouths.

Alternatives to Toothbrushes

Again, if your dog does not like the toothbrush, you can still take care of his dental hygiene needs. Some dogs tolerate soft rubber finger brushes that you place over your index finger.  It has soft knobs that break apart tarter as you rub your finger around the dog's mouth, over the teeth and on the gums.

---
If your dog is super-sensitive to anything in his mouth beside food, dental wipes might be the answer.  Most come in two inch circles and will stay fresh in the plastic container.  They are flavored so most dogs find them tolerable, even yummy!  But, they are not edible, so don't let your dog swallow them. 

---
Another option is to use an additive to your dog's water that helps keep teeth clean. This one uses all natural ingredients with green tea as the main one.  A capful in your dogs water will save you from having to brush your dog's teeth.  This is great for the dog that hates to have his teeth brushed.
---
A piece of gauze will also work.  Take a two by two gauze square and wrap it around your index finger.  Dab a little toothpaste on and wipe the teeth and gums, moving as far back in the mouth as possible.

How to Brush Adult Dog Teeth
Pick a time when your dog is relaxed, calm and sleepy.  The best time I have found for brushing teeth is after a romp or walk.  My dog has eaten and gotten a big drink of water. 

If you have never brushed her teeth before, acclimate her to the toothbrush and toothpaste.  Place a dab of toothpaste on your finger and let her lick it off.  Next, while holding her muzzle in one hand, gently touch to toothpaste to her teeth without brushing.  Talk quietly and reassuringly as you touch the toothbrush to different teeth. 


Place a dab of toothpaste on the toothbrush.  Angle the brush about 45 degrees from her front teeth and canine tooth.  Brush gently in a circular motion.  The first time you brush, limit it to the front teeth only.


Gradually over several days build up to brushing more teeth, moving slowly to the back teeth.  If any tarter flakes off, remove it before the dog can swallow. 


A little bleeding is acceptable, but if the teeth bleed profusely, you are either brushing too hard or she is developing gingivitis or other oral diseases. Stop and make an appointment with your veterinarian.

Scrapping/Scaling Adult Dog Teeth at Home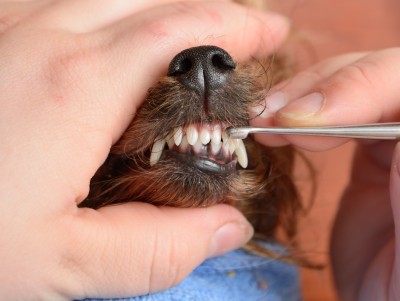 Scrapping tarter from dogs' teeth
Some owners opt to scrap or scale their dog's teeth themselves.  If the dog is cooperative, this is a sure way to prevent disease and keep their pearly whites in great shape.  You can use a human plaque scraper that is available in any store with a dental health section or you can purchase one designed for dogs.

If you decide to do this yourself, have gauze or paper towels handy.  As you scrape the tooth, catch any loose flakes of tarter from the scraper and the dog's mouth.  Do not allow your dog to swallow any loose tarter.
WARNING:  If the dog resists, don't press the issue.  Scrapes can be very sharp and cut into the gums if the dog moves away quickly.  This is best left to the professionals who will make sure your dog is anesthetized before beginning any procedures.

Signs of Oral Disease in Adult Dog Teeth

The following are signs that your dog may have a problem in his mouth or gastrointestinal system.  If you notice any of these, consult your veterinarian.

Bad breath
Excessive drooling
Inflamed gums
Tumors in the gums
Cysts under the tongue
Loose teeth
Professional Care for Adult Dog Teeth

If you notice any of these problems in your dog's adult dog teeth, it is very important to call and schedule a consultation with your veterinarian.  If your dog has tarter on his teeth and showing signs of disease, he may need a professional cleaning in the veterinarian's office.

Cleaning at a clinic is similar to that which we receive when we visit a dental hygienist to have our teeth cleaned with one major exception.  Dogs cannot talk and tell the veterinarian where it hurts, and they cannot sit in a chair willingly with their mouth open, canine patients must be anesthetized for the veterinarian to get a good look and do a proper job.

Dental X-rays may be done and scaling and polishing are done while the dog is monitored under anesthesia.

Daily brushing is the best thing that you can do to increase your dog's dental health.  In addition, you can still offer other things to your dog to assist you in the process. 

Doggie Breath Got You Gagging?

To help control your dog's bad breath, you can also offer them chew toys that massage their teeth and gums, removing sticky tartar and plaque. Many dental toys are made of natural rope fibers that act as floss, while other enticing dental toys offer a variety of interesting textures, with ridges and grooves for the dogs to work on while his teeth are maintaining their natural white glow.

Chew bones especially designed edible dental chews also reduces tarter and helps freshen breath.  They generally come with no preservatives and are gluten-free to help with digestion.  Finally, you can check with your veterinarian for food recommendations that assist with tarter control.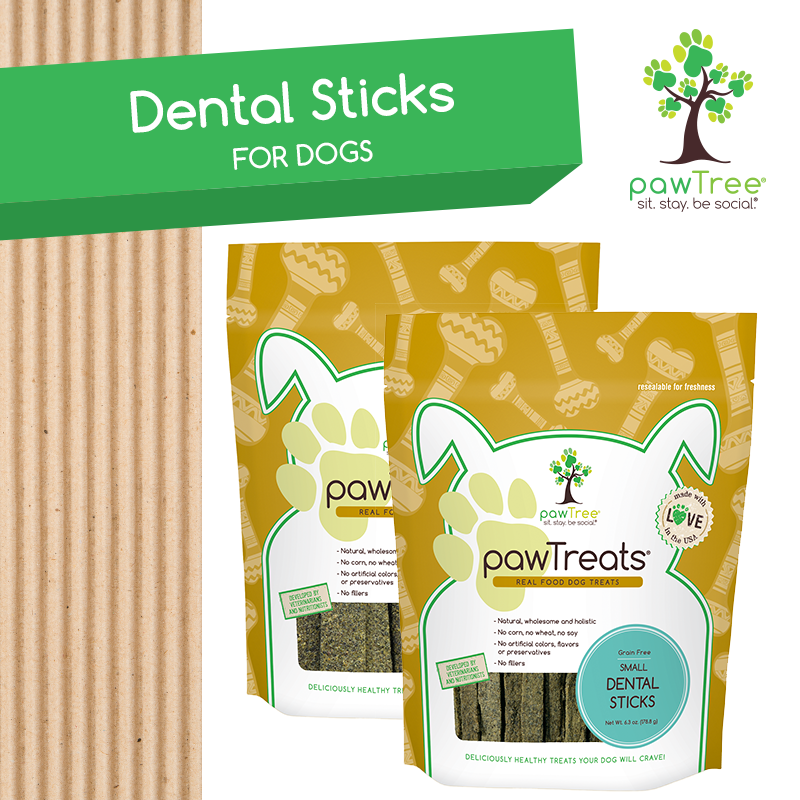 Shop pawTree Treats Dental Sticks and Build your own Paw Box
pawTreats Dental Sticks
Here is a short video that explains how these dental sticks work for your dog.
Takeaway

While dental care is not likely to be on your bucket list of fun activities with dogs, your diligence will pay off and potentially lengthen the lifespan of your dog, prevent unnecessary visits to the veterinarian, keep your dog's adult dog teeth clean and mouth smelling fresh, and help your dog live a long happy life.

What Do You Think?

Have any comments, concerns, ideas or suggestions about what you just read?
Do you have any comments about this page that you'd like to share? Please take a moment and share your thoughts, ideas, comments, or suggestions for everyone to read.
Does This Article Deserve Your Thumbs Up?
We always appreciate your support and encouragement.  Your thumbs up means so much to us.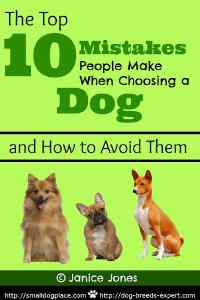 Free Monthly Newsletter
Sign Up for Our Free Newsletter and get our Free Gift to You.

my  E-book, The Top 10 Mistakes People Make When Choosing a Dog (and how to avoid them)
If you enjoyed this page, I'd love it if you'd let me know.  Just click the button below.  Thank you.
Sharing is Caring
Follow my blog with Bloglovin