Ten Dog Springtime Safety Tips
Helping Your Dog Transition from Winter to Spring

As spring approaches and the snow begins to melt, it's easy to let the dangers associated with cold weather slip your mind.

But while you may be getting ready to put your winter coats in the attic, it's probably best to leave your dog's sweaters and hoodies out for a few more months. 
According to the National Climatic Data Center, half of all US states report an average springtime temperature in the 40s or lower.

With temperatures dipping even more in the early morning and evenings, this means that many dogs around the country still have plenty of chilly walks in store for them this spring.

With cold weather still a concern, it's important to continue to exercise caution. 
Puppies and elderly dogs are more vulnerable to frigid temperatures, as are small breeds and breeds with thin coats.  

But temperatures aren't the only concerns as the seasons begin to turn.
Ten Dog Springtime Safety Tips

Don't assume that your dog can stay outside for prolonged periods of time just because of the date on the calendar.  
Springtime can sometimes be just as cold as winter, and there is an increased risk of lightning and thunderstorms as the season progresses.
Below you'll find helpful tips to make your pooch's transition from winter to spring as safe as possible.
Senior Dogs

Take special care with older dogs, whose joints may get stiff in brisk weather, making sure to adjust the length of your walk according to the temperature outside.
---
Pot Hole Dangers

A checklist on small dog springtime safety would not be complete without a word about sidewalk and road dangers.  Watch out for pot holes and broken pavement which may have developed during the winter.  They can be hazardous not only for automobiles, but also pedestrians taking their dogs for a walk.

---
Puddles
Puddles are NOT safe drinking water.  The Humane Society of Connecticut warns that the chemicals used to melt snow on roadways can work their way into roadside puddles, and puddles on grass may contain garden and lawn chemicals. 
Only allow your dog to drink from his or her designated bowl.
---
Mud
Melting snow and the potential for more rain showers brings mud! Keep your dog's paws clean and dry, and steer clear of rock salt and deicer which is likely still on the roads
---
Dangerous Chemicals

Coolant and antifreeze are lethal to dogs.  Store these products away from your pets and continue to make sure that your car is not leaking fluids, especially since your dog may be beginning to spend more time outside.
---
Doors and Windows

Make sure window and door screens are secure and undamaged, so curious pets cannot find their way outside if a sliding door or window is left open for a springtime breeze.
---
Springtime Flowers

Flowers may already be starting to pop up in warmer climates.  Those beautiful flowers we can be toxic if ingested by your dog.
---
Stay Healthy
According to Dog Whisperer Cesar Milan, veterinary clinics start to see an uptick in kennel cough as spring progresses, as dog to dog contact increases.  Now is a good time to make sure your dog's vaccinations and medications are up to date.
---
Pesky Bugs

Mosquitoes, fleas and ticks are also becoming more prevalent as the weather improves. Not only are they annoying, they also carry disease.  Mosquitoes carry heartworms. Ticks are responsible for Lyme Disease and Fleas bring their share of misery so be sure top protect your dogs from external parasites.

---
Stay Warm

 Keep your dog's bed positioned away from drafty windows.  If your house is cold, consider leaving a blanket in your dog's bed.

Finally, follow the Humane Society's advice and keep a dog sweater, hoodie or coat handy in cold weather.  Low temperatures are still prevalent in the spring, and going from a warm house to the chilly outdoors without insulation isn't fun for anyone, not even your dog.

---
Your Small Dog Springtime Safety Tips Takeaway...

I don't know about you, but I love getting out those spring and summer clothes and packing away all my old winter sweaters.  My spring wardrobe has plenty of lightweight sweaters and sweatshirts, because the weather in my part of the world is not real predictable this time of year.
Why not pamper your dogs too with a new "spring" wardrobe.  A lightweight sweatshirt or hoodie might be just the thing.
Snuggle Pup Product's Classic "Keep Me Warm" Hoodie is the perfect choice to help your small dog transition from winter to spring.
This product is made from premium fleece that is breathable and provides warmth without adding bulk, and is ideal for brisk springtime walks and cool nights on the couch. 

The hoodie dries quickly and is machine washable, so you don't have to worry if your dog steps in a puddle or gets caught in an April shower. 

The Keep Me Warm hoodie is available in sizes S, M and L and fits dogs from approximately 6 to 28 pounds.

Snuggle Pup Classic "Keep Me Warm" Fleece Dog Hoodie Sweatshirt (Black & White Bones, Small)
You can purchase this product directly from this site or visit the Snuggle Pup Website.  I receive a tiny commission from any purchase made directly from this site and as always, I appreciate your help.

---
Grab Our Free Ezine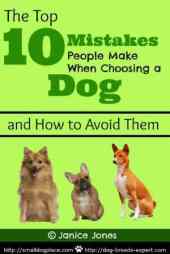 Your Free Bonus for Subscribing.
Get my free email newsletter and take a look at my downloadable ebook, The Top Ten Mistakes People Make When Choosing a Dog (and how to avoid them).
Signing up for my newsletter means you'll never miss any news or valuable information from this site.
Newsletters come out about once per month unless I have something important to bring to your attention.  Happy Reading.