Dog Walker Tips:

How to Prepare for a Great Experience
Dog Walker     by Stephen Charles     |Last Updated 04-21-2021
Walking is essential for your pets as they need exercise to stay fit and healthy. Your dog may be comfortable going on a morning walk with you, but it may misbehave while going out with a new person. People who have busy schedules don't find time to take their dog for a walk.
Hiring a dog walker is the best idea for such people.  Sometimes, dog walkers and dog sitter services go hand in hand.  This article details what you need to know about using a dog walker.  You can find valuable resources about dog sitters at Pawster. 
They have a very comprehensive list of information you should leave for your dog sitter.  Many of those items also apply to your dog walker.

However, some dogs are shy while some misbehave when you leave them around new people. Such dogs need to be prepared for the service before leaving them. This post shares some ideas to prepare your dog for a dog walking service.

Prepare your dog for his first visit with the dog walker well in advance.
Find the Right Dog Walker
Finding a qualified person should be the first step to prepare your dog for a dog walking service. It is best to find a person whose personality best mesh with your dog. Meet them in person and review all the details that are required for the best care of your pet. 

You will also want to find someone who has relevant experience handling the breed of your dog. Pet sitters who have the relevant experience would know about the nature of your dog. The dog walkers Melbourne are qualified and experienced to take care of all breeds of dogs. 
Bonding
It is essential for you to create a bonding between your dog and the person you hire for the walking service. If your dog is not comfortable around new people, should set aside time for your dog to get acquainted.

If it is possible, you should also spend time with them, as your dog will bond easily with the new person in your presence. Also, let your dog play with the new dog walker to create comfort between both of them. The dog walkers Melbourne are best in developing a loving bond with the dogs. 
Go With Them for the First Walk
If your dog is aggressive or difficult to control, never leave them alone with the new person. You should go with them on the first two walks. 
In case your dog misbehaves while on the walk you will be there to control him. In your absence, the dog may harm the walker or other people if he or she is not able to control him. 
If the pet walker is able to control your dog perfectly, you can instruct them to offer treats to your dog to create more trust and a stronger bond. 
Let the Dog Sitter Control your Dog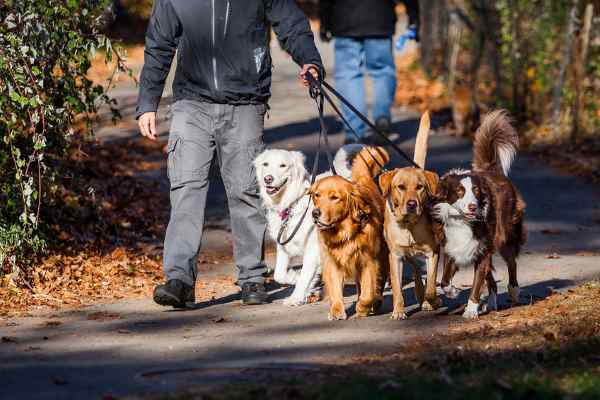 If everything goes well and you feel that a bond has developed, you can then turn over control of your dog to him/her. Allow your dog sitter to control your dog alone and take him for the morning or evening walks. 
Ask the dog walker if he or she faced any problems while they took your dog for a walk. An experienced dog walker would be able to control your dog within one week. If there are no issues, you can provide complete control to the dog walker to take him for a daily walk. 
Use a Front Clip Harness
If your dog habitually pulls on the leash during walks, you should buy a front clip harness. The harnesses and dog collars that clip on the dog's back, promote pulling. 

Such harnesses train your dog to pull you and ignore you because when you pull the harness to gain control, it draws the dog's attention away from you. On the other hand, when you pull a front clip harness, it pulls your dogs face towards you. It is better to get a front clip harness to have better control over your dog. 
Dog collars should be avoided in small breed dogs, especially those brachycephalic breeds that are prone to breathing problems.
Allow Your Dog to Sniff Around
Dog walks are not merely the physical exercises. It's a time when your dog actually explores the outer world. Whenever you take your dog out for a walk, they will want to sniff anything that smells interesting. You should allow your dog to sniff the things and also tell your new pet sitter to do this. 
Sniffing is the way dogs use to explore his environment and keep track of what is going on around them. A walk with sniff breaks will make your dog happier as compared to a regular walk without breaks.
Tell your dog walker to allow your dog to sniff things during the walk, and the dog will be more comfortable with the new person. 
Ask for a Personal Article From the Dog Walker
It is essential for your dog to make a habit of spending time with the new person. Ask your dog walker to leave a personal article for your dog at your home. For example, a handkerchief or wristband can make your dog feel their presence. Place the item in your dog's toy box.

Your dog will recognize the scent of the person and start learning that it is normal for that person to visit your home and take him out for a walk. Doing this will create more comfort between your pet and the dog sitter.  
Share Your Control Techniques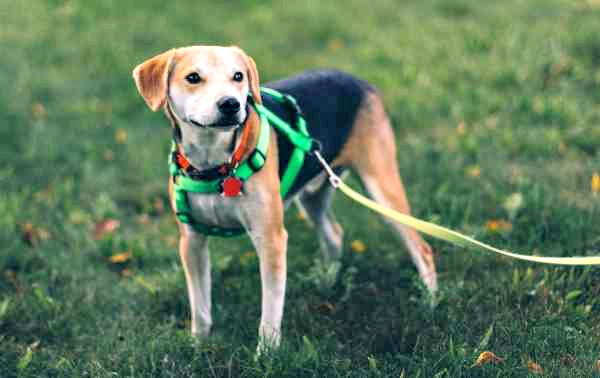 Photo by Jackson Jost on Unsplash
You should allow your dog to sit and stay for a few minutes before going for a walk and before entering the home on return. This will let your dog know the new person in charge. 

If you use any techniques to control your dog during the walks to stop him from pulling, you should share them with the walker. Such techniques will help the new person control your dog more effectively.
Your Dog's Identification
Every time you leave your dog with your new pet sitter for a walk, make sure that it is wearing an identification tag. In the rare case that things get out of control, and your dog gets lost, anyone who finds them can contact you using the identification tag. 
All the dog owners should have the identification tags for their dog. Your name and contact details of the owner should be there on the ID tags. Some tags contain a microchip that can store the dog owner's information in it. 
Be Aware of Hot Pavements in the Summer
Hot sidewalks are not only hot for us but also for dogs. To check whether a pavement is hot or not, place your bare foot or hand on it for a few seconds. If it feels hot to you, it will be hot for your dog too. A hot pavement can cause severe burn injuries on your dogs' paws. 

As a precaution, your dog should not be walked on hot pavements or during the hours that the sun is at its hottest.  Pavements are coolest in the morning and hottest at noontime.  Schedule times when both your walker and your dog can enjoy the experience without getting overheated.
It is best if the dog walker takes your dog for a walk in a nearby ground or park. However, you should check the local rules, whether they allow the pets in the park or not. 
Treats for Your Dog
Pack a bag of treats containing the things that your dog likes the most.  Pet sitters use such treats as a distraction for dogs to stop their bad behavior. Treats are also used to reinforce good behaviors.

Treats also help create a bond of love between the dog and his walker. This makes your pet more comfortable around the new person. 
Don't Forget the Water
If you are planning a daily walk for more than half an hour, don't forget to put a water bottle in the bag. Dogs need more water during exertion. 

It is not easy for dogs to regulate their body temperature in warm weather and they get dehydrated quickly. Carrying a bottle of water with you ensures that your dog can have fresh water when needed. 
Train Your Dog Not to Approach Other Dogs
It doesn't matter how friendly your dog is, but rather how your dog would be received by a strange dog. Some dogs are aggressive, and they may harm your pet. Therefore, it is essential to train your dog to avoid approaching other dogs on the way. 
Final Words
Following these steps will help person walking your dog to build trust and a strong bond with your dog. It will reduce any fear or anxiety your dog might be feeling. 
Provide your contact details and any last minute instructions so that they can contact you in case of an emergency. 

Owner Checklist
The Dog with a collar and/or harness
Leash
Water bottle
Treats
Identification tags attached to the collar
Your personal information
Home keys
Any last minute instructions for your walker
Author Bio
Stephen Charles is a renowned blogger, passionate to share amazing and helpful information with people in multiple niches. He loves to share his experiences with healthcare, news, technology, and sports enthusiasts from around the world.

Does This Article Deserve Your Thumbs Up?
We always appreciate your support and encouragement.  Your thumbs up means so much to us.  Please like this article.
If you find this page or any page on Small Dog Place Helpful, or useful in anyway, I'd love it if you would click the small heart found on the bottom right of each page.
You can also share or bookmark this page -- just click on the: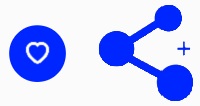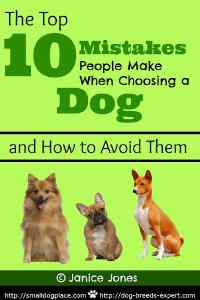 Free Monthly Newsletter
Sign Up for Our Free Newsletter and get our Free Gift to You.

my  E-book, The Top 10 Mistakes People Make When Choosing a Dog (and how to avoid them)