The Mi-Ki:  Charming, Intelligent, Affectionate

By Annette Steiner   |Last Updated May 9, 2019

The Mi-Ki breed is a playful small dog that has been bred mixing 3 small dogs: the Maltese, the Papillon, and the Japanese Chin. 
The breed is not an AKC recognized breed and is classified now as a "Rare Dog Breed".
Both the IMR (International Mi-ki Registry) and the AMRA (American Mi-Ki Registry Association) are in the process of keeping strict breeding programs with DNA profiling through the United Kennel Club, Inc.

The breed is a highly intelligent little muse who can charm the pants off anyone. This is a non-shedding breed with hair instead of fur, which is a plus in houses like ours with allergies.
---
Video Courtesy of Animal Planet

---
There are two types of coats that can occur in the same litter; smooth coats and long coats (which some call rough coats). We own a long coat and keep her groomed with flowing locks.

The smooth coat Mi-Ki always looks like they have been groomed without much fuss.  They have active ears and are capable of "winging " when excited.
Some Mi-Kis are up-eared similar to their Papillon heritage giving them that butterfly ear look and others like ours are dropped similar to their Maltese heritage.
Description / Breed Standard

Coat Types

This is Brumby's Run Charlie, a smooth coated Mi-Ki
Long Coated: fine, silky straight hair with long feathering on the legs, tail, and ears. Beard and mustache. Some people keep the face and head shaved short to showcase the apple shaped dome whereas others prefer the bearded, longhaired face.

Smooth Coated: straight hair that stays close to the skin. The smooth coat Mi-Ki has no beard or mustache.
Head and Skull

Head/Skull:  Small apple domed with a well-defined stop and a small muzzle.
Teeth:  Level to scissor bite   
Eyes:  Expressive and round. Dark eyeliner like rims.
Ears:  Ear Up: Carried erect
         Dropped: Folded down
         Both types of ears are capable of "winging" and should be feathered
Neck and Body

Neck: Medium
Body: Backline is straight and level, the chest is a medium depth and the body slightly longer that the height.
Legs and Feet

Legs
    Fore: straight with hair feathering
    Hind: Parallel when viewed from behind with hair feathering
Feet
    Thin,  elongated and hair trimmed
Size
Height    Not to exceed 11 inches
Weight    Averages 5-8 pounds but can be smaller
Tail
Set high and carried gracefully arched over the body with hair fringing
Color
All coat colors are acceptable and solid colors are rare
Gait
Smooth, jaunty and flowing gait
Temperament
Intelligent, sweet-natured, affectionate, friendly and alert. Excellent as therapy dogs because of their calm, adaptable nature.
Meet a Mi-Ki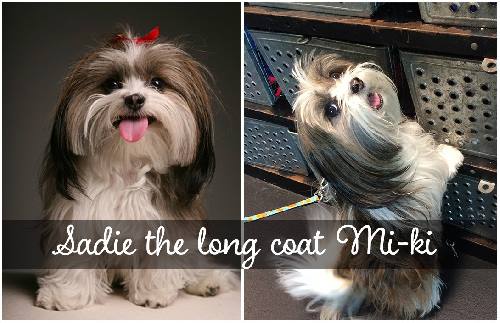 Our dog Sadie is a sweet little girl weighing in at 5 pounds as an adult. She doesn't bark much and sometimes makes a cat like yodel sound when she is trying to express herself.
Many people mistake her for a Yorkie, but her face and look is more like a Maltese that has just stepped out of a beauty salon with the most gorgeous hair colored highlights you will ever see.
Well behaved and easily trained just about the most perfect dog ever… but then we are a bit prejudiced when it comes to Miss. Sadie.
Honestly, this breed is very beloved by many and that love is well deserved because these little dogs are heart, stealers.
Feeding Tips

The Mi-Ki is a tad fussy when it comes to food. We feed our Mi-Ki
ZiwiPeak Real Meat Grain Free Air Dried Dog Food, Lamb, 2.2lb
which is an air-dried natural meat with vitamins and minerals from New Zealand.
When she was a pup she ate Royal Canin but once she tasted the ZiwiPeak she insisted on nothing but ZiwiPeak.
This is an insight into what we call the Mi-Ki connoisseur. Once they find something they like, they will stick their nose up at anything else even if they are hungry.
Our dog will even let us know when they are ready for a special treat by walking over to the canisters sitting up and giving a little yodel.
We have 3 kitchen canisters from simple human, one for food, one for special treats and one for Himalayan bones which are great for cleaning teeth.  She knows which canister holds the venison treats!
So if you want one of these sweet dogs,  remember they have discerning tastes so if you decide to give them filet minion you better have the pocket book to always feed them filet, minion.
Training Tips: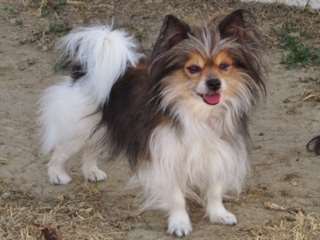 Meet Southern Charmers Royal Jack, Sadie's Dad
The Mi-Ki is extremely intelligent and wants to please so training a Mi-Ki is fun and easy. Our Mi-Ki was potty trained when we got her. It is important to find a breeder who is responsible and starts the training process for you.
Early potty training is decisive on how your puppy will learn in the future. Tricks are not just fun to show your family and friends it keeps your puppy alert and learning.
Sit, down, all-the-way-down, drop it, sit pretty (the begging position), heel, waving, playing dead (or bang) are just a few of the tricks our Mi-Ki loves to show off. Mi-Kis also enjoy agility training.
Exercise
Mi-Kis are excellent apartment or condo dogs because they can do what we call nut runs around a room and be happy and tuckered out. But always walk your Mi-Ki at least once a day as all dogs have a need to walk. 

Grooming
Mi-Ki's have hair and do not shed fur so it is important to brush/comb their hair on a regular basis.
Our Mi-Ki loves having their hair combed and gets into a little zen trans as we brush through her long locks.
Their hair is just like ours so if you don't comb or brush it daily you will end up with mats and you definitely do not want that because they are hard to get out and can cause ouchies for your best buddy.  Some Mi-Kis (smooth coats) do not need as much grooming.
Health Problems

Because Mi-Kis have short muzzles they are at risk of respiratory problems. It is very important to keep the Mi-Ki's teeth clean.
I will never forget going for a vet health visit and being asked "do you brush your dogs teeth?"
And asking "how often should I do it … once a week?", then having the vet look me right in the eyes and saying "How often do you brush your teeth?" …
"then that is how often you should brush your dog's teeth".
Now our dog is not a fan of the tooth brush so we use Petsmile by Supersmile a doggie tooth paste that is applied with applicator swabs. Plus it is important to give your Mi-Ki a good and safe bone to chew on.
They have a long life expectancy, living well into their teens.
---
If you are lucky enough to meet one of these amazing dogs or own one, you will fall head over heels for their charm and love for life.  Want to know more about Sadie?  Why not visit her online...

---
Photo Credits and Further Information

Some of the photos on this page are courtesy of Brumby's Run Mi-ki's.


Does This Article Deserve Your Thumbs Up?
We always appreciate your support and encouragement.  Your thumbs up means so much to us.  Please like this article.
If you find this page or any page on Small Dog Place Helpful, or useful in anyway, I'd love it if you would click the small heart found on the bottom right of each page.
You can also share or bookmark this page -- just click on the: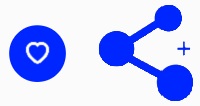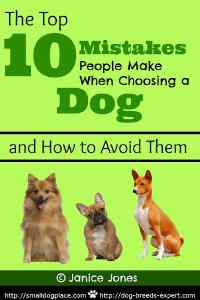 Free Monthly Newsletter
Sign Up for Our Free Newsletter and get our Free Gift to You.

my  E-book, The Top 10 Mistakes People Make When Choosing a Dog (and how to avoid them)