Four Great Tips for Selling Your House When You Have Small Dogs
Selling Your House When You Have Small Dogs is not impossible but does take some ingenuity on your part.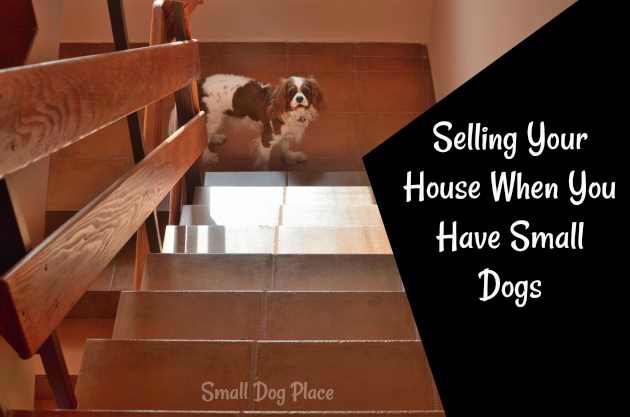 Selling Your House When You Have Small Dogs: Tips To Make it a Success
When you have dogs, selling your home comes with a couple extra considerations. Pet owners may be surprised to hear that some buyers are afraid of dogs (even small dog breeds), while some are put off by the sound and smell.
No doubt, having a dog around during the showing will not help your home sale - worse, it could even cause buyers to devalue your home. You may love your furry friends, but it's best if buyers don't see them - or any signs of them - while touring your home. Keep your dogs at bay by following these home staging tips from real estate company Redfin.

Tips on Selling Your House When You Have Small Dogs
This in-depth list of ideas for selling your house when you have small dogs will get you started on the road to a successful and quick sale.  As you begin to prepare your home, take a new look at your home, just like  a prospective buyer might.  You may even find things you need to do that isn't on this list.
1. Find a Pet Sitter
The best option is to find a neighbor, family member, or friend who can watch your pup while your home is on the market (your dog deserves a vacation anyway, right?). If that's not an option, you'll have to get creative to keep your pup out of sight.

Take your dog for a walk during showings. Communicate with your realtor, so they let you know in advance, and you can take your dog for a stroll or to the dog park while the home shows.


Put them in the backyard. This is less-than-ideal because potential buyers will still see your dog, but it's better than having them inside the house. Side note: make sure to scoop any poop in the yard, because nothing ruins a showing faster than stepping in doggy doo-doo.


Crate your dog. When selling your house when you have small dogs, try to crate them, either separately or together.  This works better with a quiet dog, as a loud barker can disrupt the showing and turn off potential buyers.


Hop in the car and go to the park.  Your dogs will love it and t will help you relax too.
Make sure to communicate the strategy with your agent so that you can coordinate the best times for showings and plan accordingly. If you have other pets, like indoor cats or birds, make sure your agent knows to close the doors, so they don't escape outside.

2. Eliminate pet odor
If you're used to living with pets, you probably don't notice any smells so it may come as a surprise that visitors do! Even if your dog is potty-trained and well-groomed, they likely still have a distinct dog odor.
For that reason, it's essential to thoroughly clean the house, including the carpets and air ducts, so buyers aren't put off by the smell when they tour your home. 
Pay special attention to the carpets where accidents may have occurred. Make sure your carpet is thoroughly cleaned, shampooed, and vacuumed to remove odor and stains. You can rent a carpet cleaner from your local hardware store or hire a professional to do the work. 


Consider hiring an air duct cleaning specialist, as air ducts can harbor pet dander, hair, and mold and cause pet odors to linger.


Remove pet hair from hard-to-reach areas like behind furniture and appliances.


You can use air freshener in a light scent like "rain" or "fresh meadows" but be sure to use sparingly. Too strong a smell may cause buyers to suspect you are covering something up.
3. Repair Pet Damage
Even the most well-behaved pet has an accident from time to time, not to mention the routine wear-and-tear that comes from living with dogs. Before a showing, make sure to fix any pet-related damage. Common high-traffic areas include:

Entryways: Many dogs scratch at the door to go out, leading to loss over time. A good coat of paint can go a long way to revive scratched doors, walls, and damaged trim. 


Carpet: Pet urine can leak through carpet to the bottom layer of foam underneath, leaving a smell and stain that is especially hard to get rid of. If this has happened, you may need to enlist the help of professional carpet cleaners to replace sections of old padding and carpet.



Floors:

Scratches in wood floors can be repaired with a stain-filled marker, or sanded and refinished. If your wood floors have been hopelessly scratched by dog nails, now may be the time to re-do them. While pricey upfront, quality floors add value and can help you sell your home faster for more money. 


Furniture that tasted good to a puppy may look like a sore thumb to potential buyers. If you have old furniture that has been chewed, scratched or otherwise ruined by pets, consider getting rid of it or putting it into storage until after the house is sold.


Yard: Make sure you fill in any holes in the yard caused by digging dogs, as they can present a tripping hazard to visitors. Pee and poo can create unsightly bald patches on the lawn that reduce curb appeal, so reseed your lawn if necessary.
4. Remove Clutter, Stage Furniture and Create An Inviting "Dogless" Environment
No dogs here. Just a dapper young gentleman.
Your realtor might have suggested painting the walls a neutral color before an open house to make it more universally appealing to buyers.
A similar rule applies to pets. Just like you'd clear clutter and stage furniture in your home before a showing, make sure you hide all evidence of your furry friend, including toys, food bowls, dog beds, and leashes.
Some realtors may suggest removing personal items such as family photos, the same goes for dog collectibles that you love but indicate that a dog or two reside at this residence. 
Pack away yard signs, dog figurine collections, or even the dog cookie jar that decorates your kitchen counter.
If you use doggie gates, consider alternatives.  Many dog gates are difficult to open to the uninitiated and may prevent potential buyers from seeing the entire home.
Ultimately, the buyer should be able to envision their new life in your house -- sans any reminders of you or your furry friend.
By taking precautions to find a pet sitter, eliminate odor, and repair pet damage, you should have no problem selling a house when you have small dogs, and the buyer never has to know that you were in the doghouse.
Recommended
If you found, "Selling Your House When You Have Small Dogs," helpful, may we suggest other articles you might enjoy?
Does This Article Deserve Your Thumbs Up?
We always appreciate your support and encouragement.  Your thumbs up means so much to us.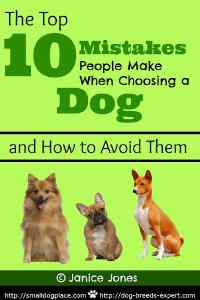 Free Monthly Newsletter
Sign Up for Our Free Newsletter and get our Free Gift to You.

my  E-book, The Top 10 Mistakes People Make When Choosing a Dog (and how to avoid them)
If you enjoyed this page, I'd love it if you'd let me know.  Just click the button below.  Thank you.
Sharing is Caring
Follow my blog with Bloglovin