Living in a House with a Small Dog
Living in a House With a Small Dog: What You Need to Know

Living in a House with a Small Dog by Frankie Walker |Last Updated 12-29-2022
Living with a small dog is special. What they lack in size, they more than make up for cuteness and affection. Small breeds like West Highland Terriers and King Charles Cavaliers are packed with personality and love being around you all day.
But caring for a small dog does require some extra responsibility on your part. The consequences of even minor mishaps can be devastating — it's significantly better to prevent these accidents from happening in the first place, so your pet stays safe and healthy.
Fortunately, setting your home up to support a small dog is straightforward. A few simple steps ensure that they can feel fully at home in your house.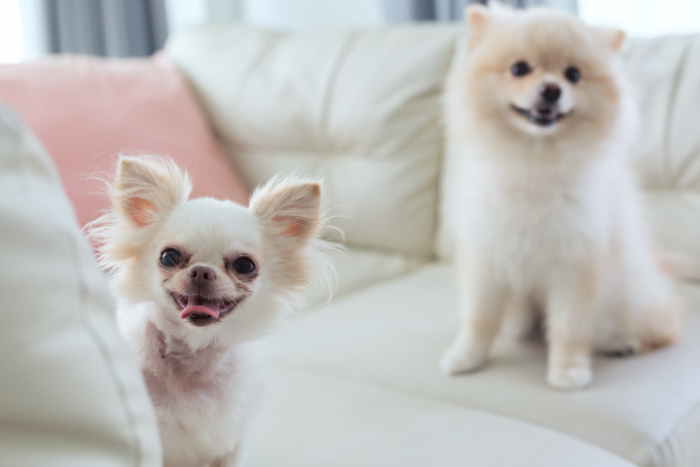 Living in a House with a Small Dog
Steps to Living in a House with a Small Dog
Puppy Proofing
Before you bring your new pooch into your home, you must puppy-proof the interior and exterior of your house. Small puppies are naturally inquisitive and will want to check out every inch of their new space. And since they're so little, there are a lot of nooks and crannies they can get into.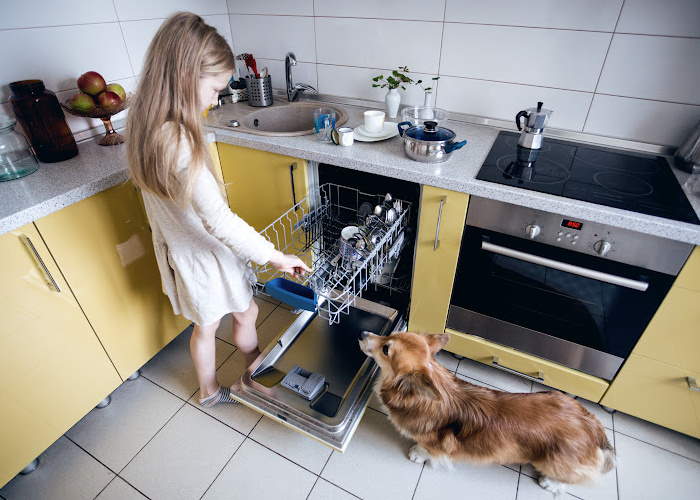 You can support your small pup's curiosity by sealing off some parts of your home. Start by putting a blockade on any loose wiring that connects TVs, phone lines, or other cables. Your new buddy will love to chew on anything they find so don't give them a chance to chew through electronics.
Next, you'll need to subdivide your house into areas that your new small pup is allowed access to. Until your puppy has grown up a bit, you'll want to keep an eye on them to prevent any accidents. A few gates will do the job and ensure they safely explore your space.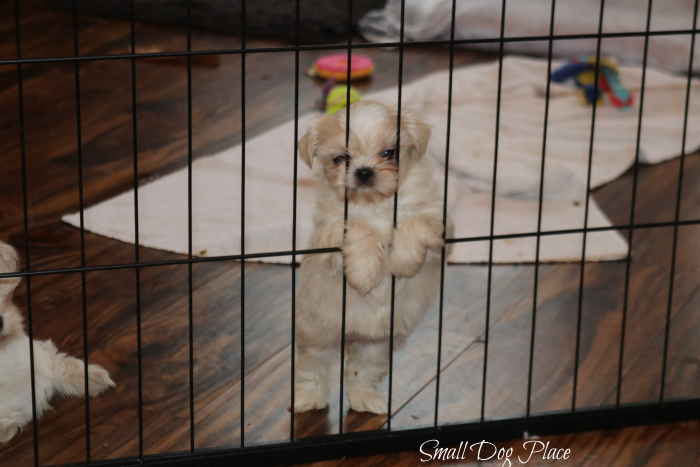 Home Security
As a small dog owner, you'll also need to take some additional steps to improve the security of your home. Unfortunately, you have to account for dog theft. Small dogs can be expensive and dog thieves may try to steal your little pooch. 
You can reduce the chance of dog theft while you're out of the house by securing your home when you're away. This is especially important to do when you're traveling or on vacation, when a dog sitter may be coming into your home, or your house is left unattended for extended periods. Take extra precautions like setting timers for your lighting and setting up visible audio-video surveillance.  
Foods and Poisons
Schnauzers and Pomeranians may be a fraction of the size of Dobermans and Bernese Mountain Dogs, but they can have the same appetite for food they shouldn't eat.
Unlike larger dogs, small dogs struggle to handle any amount of food that is toxic to them, even if they love the smell and taste.
You can prevent accidents from occurring by familiarizing yourself with foods that are toxic to dogs, including avocado, chocolate, coffee, onions, and grapes. Make an extra effort to keep these foods away from your dog — such as keeping them in hard-to-reach cabinets instead of on the kitchen counter — so they don't eat them.
Other toxins can spoil your small dog's fun and present serious safety risks. Plants like aloe, azalea, and even daffodils can be toxic to dogs and cause anything from vomiting to life-threatening illnesses.
Remove toxic plants from your garden to ensure your small dog is at home wherever they wander.
Insects and Pests
Insect bites and diseases spread by fleas and ticks can be harmful to small dogs. However, these pests can be found almost anywhere, even in your own yard.
You can protect your pet from pests by learning the signs of a bite (as well as infection) and keeping appropriate treatments in your house. Small dogs may suffer more from bites, as their smaller size means that the pest has a larger overall impact on their health. 
You can prevent common insects from biting your little canine pal by discouraging large wildlife from entering your garden. Larger animals, like deer and squirrels, may carry and leave behind insects when they travel through your yard.
You should also give your small pooch a quick brush when they come in from the outside. This will keep their fur from knotting and help prevent any bugs from latching on. Regular baths for your pooch can also help get rid of unwanted pests. Find out if your dog is carrying fleas by combing through the coat with a flea comb.
Fun Spaces for Small Dogs
Living with a small dog isn't just about preventing poisons and pests — it's a lot of fun, too! You can set your space up to best suit them and make them feel at home. 
Start by reconsidering the design of the spaces where you two spend the most time. For example, if you spend every evening in the living room, consider buying a small pup-friendly soft staircase so they can climb up onto the couch with you.
If they aren't allowed on furniture, then consider buying them their own bed so they can climb onto a couch of their own. 
Small dogs of all ages love to explore the cracks and crevasses of your home. You can safely support this desire to burrow and uncover by investing in small dog houses and agility runs that are the right size for your dog.
Just ensure that it is safe for your pooch to jump as part of agility runs, as some breeds may compromise their hip health by partaking in agility courses. 
Conclusion
Living with a small dog is a great way to improve your happiness and bring your house to life. Having a little companion makes busy work days that much easier and taking them on walks is great exercise.
You can make your house into a home that suits you both by increasing your security, sealing any wires, and providing your pooch with an area of their own to explore and relax in. 
Living in a House with a Small Dog
Pin for Future Reference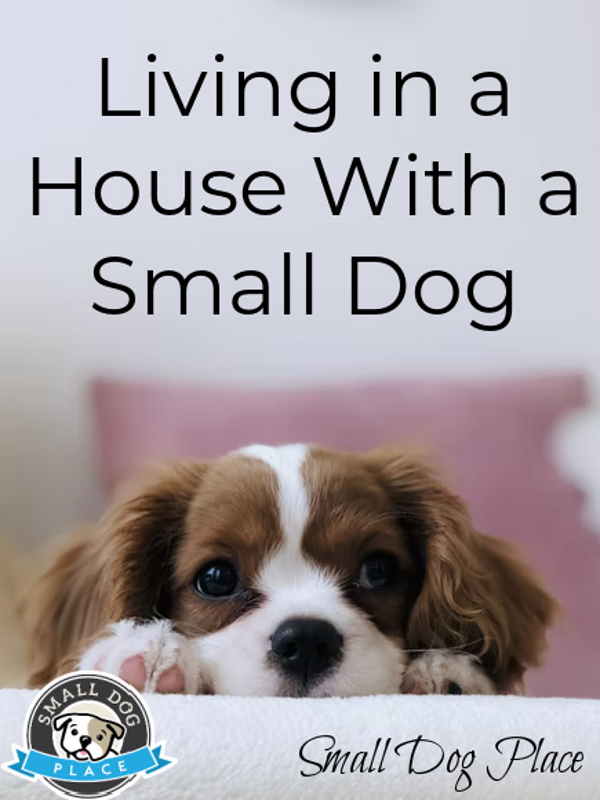 Author Bio
Frankie Wallace is a frequent contributor to Small Dog Place. She is a freelance writer from Boise, ID. If her spirit animal could be anything, it would be a beagle--inquisitive, and always searching for food.
If you found this article helpful, check out other posts written by Frankie Wallace.
Small Dog Obesity: Your Dog Isn't Chunky--It's Obese

The Benefits and Challenges of Having Pets in the Workplace
How to Guide Your Senior Dog Into Aging with Ease
How A Dog Can Promote Healthy Living
Separation, Divorce and Dog Ownership The Importance of Keeping a Dog in the Lives of Both People After a Separation
How to Care for Dogs with Sensitive Stomachs
How small dogs help cancer patients:  Having a Small Dog Can Boost Positivity for Cancer Patients
Does This Article Deserve Your Thumbs Up?
We always appreciate your support and encouragement.  Your thumbs up means so much to us.  Please like this article.
If you find this page or any page on Small Dog Place Helpful, or useful in anyway, I'd love it if you would click the small heart found on the bottom right of each page.
You can also share or bookmark this page -- just click on the: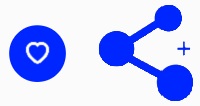 Your second block of text...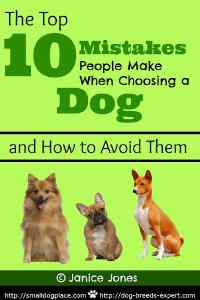 Free Monthly Newsletter
Sign Up for Our Free Newsletter and get our Free Gift to You.

my  E-book, The Top 10 Mistakes People Make When Choosing a Dog (and how to avoid them)