Top Tips For Taking A Small Dog Up A Mountain

Top Tips for Taking a Small Dog Up a Mountain, Guest Post  by Mike Payton
One of the most rewarding things you can do to spend time with your four-legged friend, is take your beloved dog along with you on a hike up a mountain. While you may feel that this activity is well suited to larger breeds such as Golden Retrievers, German Shepherds etc, you may feel that it could be irresponsible to take a smaller breed on such a trip.
However, that simply is not the case, smaller dog breeds love adventures just as much as larger breeds do. So whether you have a Corgi, Jack Russell or even a Shetland sheepdog, they can still get a lot out of a trip up a mountain with you.
Perhaps you are concerned for their well-being though, and that is sensible. When you decide to take any dog, big or small, on a hike with you, there are important things you need to bear in mind. With smaller breeds these are magnified even more.
To help you plan out your hiking trip with your small waggly tailed companion, we have put together a list of what we feel are 9 most important tips.
If you put these into practice you and your canine buddy are sure to have a rewarding and enjoyable day scaling a mountain.
Plan, Plan, Plan Before Taking a Small Dog Up a Mountain
Plan, plan and plan some more when taking a small dog up a mountain
We mentioned the word plan earlier and that is the best tip to start with really. When you make the decision to try and take on a local mountain or hill with your small dog, you need to plan everything out. It would be foolhardy, reckless and potentially dangerous to just decide on a whim to take your dog on anything as taxing as a mountain hike.
Particularly if they have never done much more than walk around the local dog park or country park. Plan everything from when you are going to go, where you are going to go and it may mean investing in some training and accessories before hand. More on that later.
Build Up Their Skills And Experience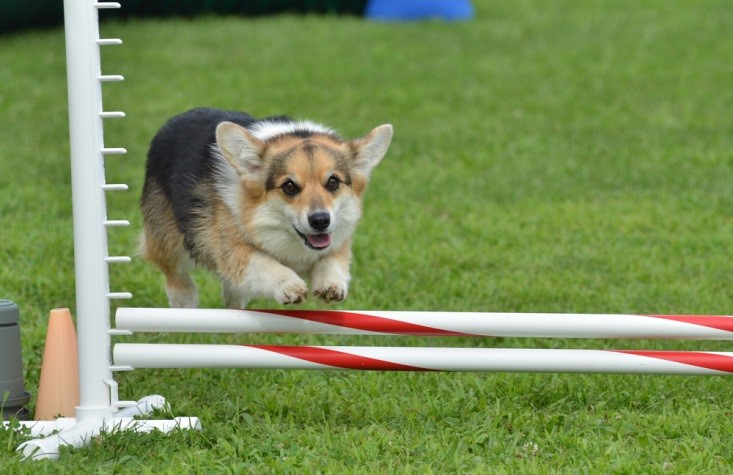 Before taking a small dog up a mountain, be sure they are in top shape.
Following on nicely from the above, our next tip is all about building up your dog's skills and experience. Remember, a hiking trail is unlikely to be a nice clear, smooth and straight path to the summit.
So, it's important to invest some time and possibly even money in building your dog's endurance and strength up. Set up obstacle courses and train your small dog to work over, around, under or even through certain obstacles. Taking hikes on even surfaces can also help.
It is not uncommon for smaller dogs, although the same could be applied to dogs of any size, to lack the coordination or even confidence to tackle rough trails. Therefore, it makes sense to spend time when you are not on the side of a steep hill or mountain in the middle of nowhere, building up their confidence and coordination in an environment that is relaxing and calm for them. 
Just as you will have to handle navigating over logs, creeks, boulders and various other obstacles along the way; so too will your dog. If they can't, this could bring things to a complete halt or at least slow things down, while also meaning that you are using way more energy than you should.
Agility and obedience classes are also important too, because as well as confidence, endurance and strength; you need to know that your dog will listen to you when it matters most. Make sure your little dog responds well to the basic commands of come, sit, stay etc.
Choose The Easier Trail Route Over The Quickest when Taking a Small Dog Up a Mountain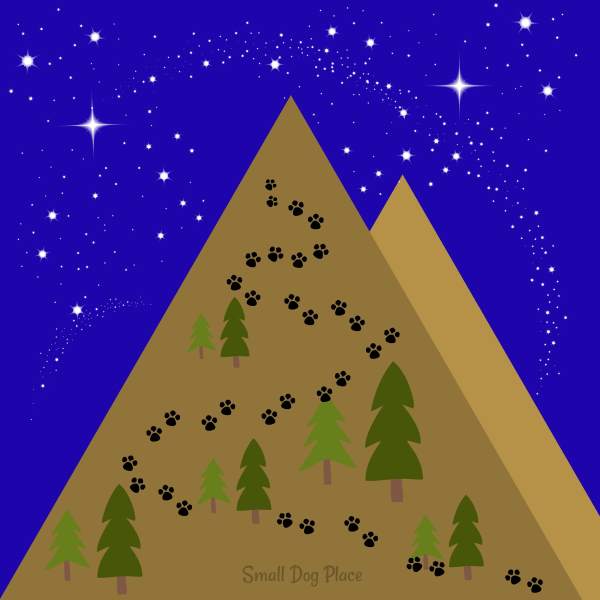 Choose a comfortable path when taking a small dog up a mountain
Although many small dogs are just as fearless and driven as their larger counterparts, as we've established they lack a lot of the physical strength.
For many smaller breeds, their bodies are simply not designed to take on more challenging trails. For example, corgis, basset hounds and Dachshunds should not be taken on hiking trails that involve a lot of uneven terrain and big boulders or rocks.
When they leap on and off higher surfaces, it puts a lot of weight onto their spines. Many smaller dogs often have a tendency to develop herniated discs without taking part in arduous hiking trails.
Furthermore, streams and seemingly little creeks may appear to not be particularly challenging for large dog breeds - for smaller dogs though they are dangerous.
The vast majority of dogs can swim - this is true. The problem is that if they try to swim through a fast-moving stream or creek with a depth deeper than their legs, they could get caught up and taken downstream by the current. This is why it is often recommended that hikers with small dogs take some kind of floatation device with them.
Carefully and Continuously Watch Your Dog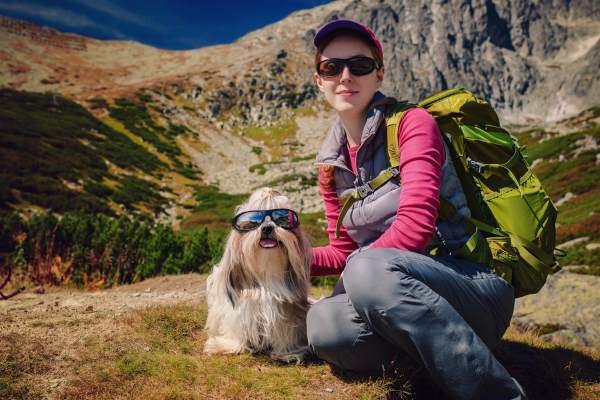 Always keep a close watch on your pooch when taking a small dog up a mountain.
As many smaller dogs, such as Corgis and Cockapoos, have an apparent storage of limitless energy; it can be easily forgotten that they can quickly wear themselves out. thanks in part to their smaller legs it obviously takes them more effort to keep pace, than a larger dog. 
Although the general rule of thumb is that the pacemaker for a hike is the slowest and least able individual, your small dog in the scenario, it may be wise to assert your authority and take steps to stop them when they are getting too close to burning out.
This is especially good practice if your small dog is completely new to mountain and hill walking. It can take a while, for humans and dogs, to built up the stamina, endurance and strength necessary.
Keep a close eye on your dog throughout the hike and although you will be disappointed if you have to cut it short or it takes a lot longer than you planned; you will be glad that you put your dog's health and well-being first.
Bring Enough Food And Snacks When Taking a Small Dog Up a Mountain
If you have ever been on a hike before, you will know only too well how quickly the calories and energy are burned up. With this mind, you undoubtedly pack a lot of energy-boasting snacks to keep you going. It is no different for your small furry friend. He or she only has little legs after all and they will be burning up energy very quickly as they tackle a hiking trail.
It can be tricky to plan how much food will be enough, as this is one of those trial and error things that you kind of have to experience to learn how to do it right. Certainly, taking more than enough, that doesn't weigh down your backpack too much, will help.
Choose high energy snacks for both you and your dog.
Take Plenty of Breaks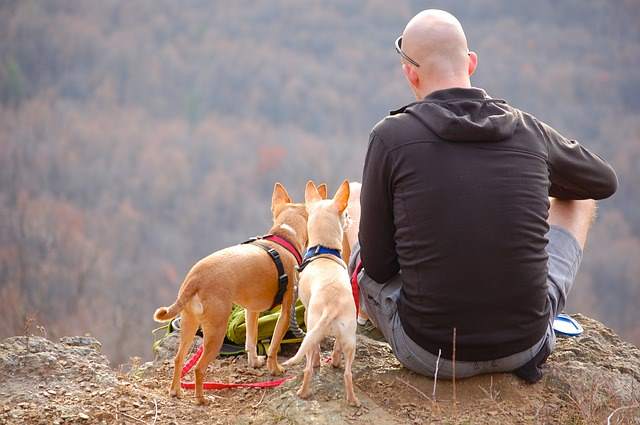 When taking a small dog up a mountain, plan to take plenty of breaks
Speaking of snacks, it is also crucial that you plan on taking plenty of breaks along the trail. While you may have a target time in mind, you need to remember that when you are hiking with a dog - the dog's health and safety is more important than your finishing time.
Along with the fact that they have smaller lung capacities, smaller legs and smaller hearts; they are also closer to the ground, meaning they absorb the heat radiated up from the ground. This in combination with moving their legs faster than bigger dogs or humans, means that they overheat a lot quicker.
There are also a number of breeds that have heat-related issues you need to be aware of. For instance, if you have a flat nosed breed such as a Boston terrier, French bulldog or even a pug; they will get hot incredibly quick because they have much smaller airways and are unable to transfer the heat as effectively or efficiently.
Hikes therefore in warm temperatures need to be shorter.

Take Heed Of Any Predator Warning Signs
When you start a hike, there may be a variety of signs identifying any predators that have been spotted or known to roam around the area. You may even get some information about where exactly they were last seen. Many other signs simply warn of the ongoing threat and danger of animals, including alligators and coyotes.
Larger dogs can be seen as a protection when you are hiking, as many predators may not take their chance if they see a larger animal by your side. Smaller dogs on the other hand may just appear as a tasty and quick snack. Coyotes are highly intelligent and faster than you might think.
So look out for any signage and it may be best, if there are warnings of coyotes and other predators in the area, to keep your dog on a tight and short leash.

Invest In the Right Gear Before Taking Your Small Dog Up a Mountain
As smaller dogs need more assistance on a trail, having the right gear can make all the difference to the experience you both have.
Harnesses are very popular and highly recommended by various experts and organisations, including Conservation Canines. Having your small four legged friend wear a harness means you can assist them when they are trying to traverse harder and larger obstacles along the way.
When walking over boulders or fallen logs, a handle on the harness can be utilized. It is wise to invest in harnesses with vivid colors such as orange or red for greater visibility.
Additionally, coats are a great investment too, because the weather can change quickly when you are on a mountain side.
Easy to Put on and Take off Small Dog Harnesses
Easy to put on and take off
Dogs can't escape easily
Soft pillow like lining for extra comfort
Invest in A Backpack (With Space For Your Dog)
Undoubtedly, you will be planning to bring a backpack of some kind for you and your dog's food and other necessities. With a smaller dog, as we noted earlier, you need to consider the fact that they may not be able to walk the entire distance or may find it progressively harder - the higher and further you go.
When their energy is obviously sapped, and if you still want to complete what you started - it may be a good idea to invest in a backpack that has space in a compartment to pop your little friend in when he or she is too tired to walk. Not only will this mean you both can reach the summit, but it can prove to be a nice talking point with people you meet on your way up and down the summit.
PetAmi Deluxe Pet Carrier Backpack for Small Cats and Dogs
Comes in multiple colors
Thick, cozy sherpa lined bedding
Well ventilated
Extra thick padding on back and shoulder straps
Conclusion:  Tips for Taking a Small Dog Up a Mountain
There you have it, a fairly comprehensive guide, full of tips for taking that hike with your small doggy chum. The one thing we missed from the above, is probably the most important thing in actual fact – remember to enjoy your hike.
The main reason you are doing it in the first place, is to do something that you and your dog can enjoy. So plan, prepare and make the most of it!

Recommended Just for You
Does This Article Deserve Your Thumbs Up?
We always appreciate your support and encouragement.  Your thumbs up means so much to us.  Please like this article.
If you find this page or any page on Small Dog Place Helpful, or useful in anyway, I'd love it if you would click the small heart found on the bottom right of each page.
You can also share or bookmark this page -- just click on the: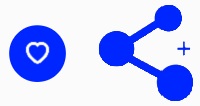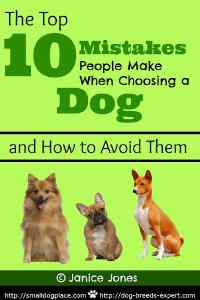 Free Monthly Newsletter
Sign Up for Our Free Newsletter and get our Free Gift to You.

my  E-book, The Top 10 Mistakes People Make When Choosing a Dog (and how to avoid them)