Topeakmart Puppy Playpen Review (8 Panel)
Topeakmart Puppy Playpen Review   by Janice Jones     Published 09-25-2021
What is a Puppy Play Pen, and Why Would You Need One?
Consider this scenario.  You've picked out a puppy, and now you are waiting for the big day when you can bring your new best friend home. 
You're counting the days and getting your home ready.  Maybe you're even gushing over all the adorable toys you plan to buy. Or, perhaps you read about puppy care, puppy-proofing, and training. 
OK, so you're becoming a puppy expert.  But wait, where will that furry bundle of joy live?  
Most people think of dogs as family members following their favorite person from room to room.  You might envision your puppy sitting patiently by the door, waiting to be taken for a walk or romp in the back yard. 
That all sounds great, but the reality is puppies need plenty of socialization and training before they can safely get  the "run of the house."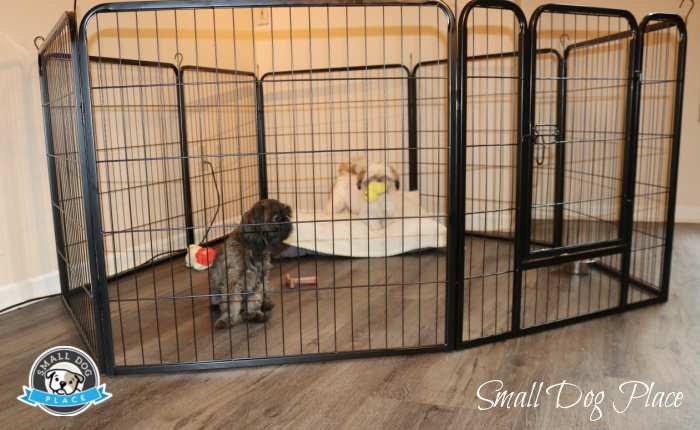 Puppy Playpens can be used indoors or out with puppies as well as adult dogs.
It's perfectly normal for puppies to chew, tear up things, urinate and defecate wherever they see an exciting spot. That's where puppy playpens come into play.  
Experts agree that puppy playpens are good for young puppies.  Not only will they have room to play, but you will feel secure knowing where the puppies is.  
A young puppy in training needs a safe place to be when you can't give him your undivided attention.  This place can also include a comfortable bed or crate, toys, and dog bowls of food and water. 
A well-constructed playpen can be a lifesaver, not only keeping the puppy safe but keeping your home safe from damage caused by that new friend of yours. 
Uses for Puppy Playpens
Traveling with a Dog
But, playpens can be extremely useful in many different cases, and not just for puppies.  If traveling with a dog, it's often helpful to have a place to keep the dog confined. 
This is especially helpful on camping trips where you don't want to leash your dog all the time.  I have seen people assemble dog playpens on grassy areas of hotels and even on the beach.
Older Dogs with Incontinent Issues
Incontinent dogs can also be kept safely and happily in their enclosure while protecting the rest of the home. 

Dog Breeders
Dog breeders who do not own permanent kennels can keep a litter of puppies secure within their own home or transfer the playpen for outdoor exercise.  
Housebreaking Aid
This is the number one reason many new puppy owners shop for puppy playpens.  Housebreaking a small breed dog is notoriously difficult especially with some more stubborn breeds and it may take months to finally achieve perfect compliance.  A pet enclosure where the puppy can feel safe is crucial for ultimate success.
Safety Throughout the Day
Dogs prefer a safe, quiet place to call their own.  They feel most at home in their little den.  A playpen can provide this security and still give the dog freedom to move around. 
A playpen is essential if you work outside the home and don't feel comfortable allowing your dog to run freely.   Many people will use a crate, but this restricts movement and may not be appropriate for long periods.
Even if you are at home but need time away from your dog such as when cooking or working on a delicate craft, a puppy playpen could be the perfect answer.
What Should You Look for When Purchasing a Puppy Playpen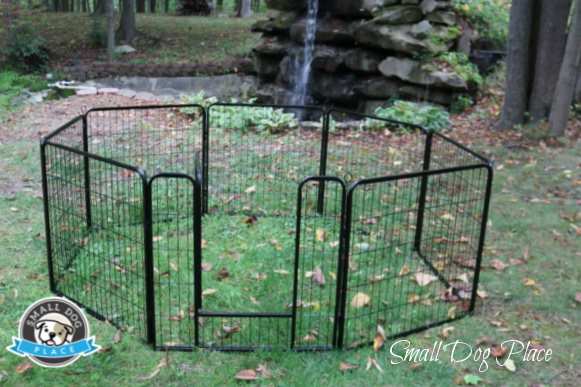 Topeakmart Puppy Playpen
Before you purchase, determine how you will use the playpen.  Will it be a permanent or semi-permanent fixture inside your home, or will it remain outdoors for the puppy to use when housebreaking? Perhaps you want a product that you can use in any location.
How big is the puppy now, and how big will he be in six months.


Will you need to enter the enclosure to fill water bowls or clean?


Will you want to observe the puppy from outside the enclosure?


Will your puppy be expected to climb out on his own when required?


Do you need the flexibility to reconfigure the pen to fit your personal space?


Do you want an easy setup, or are you the handy-man/woman type that thrives with a tool belt filled with tools to build the pen?  
Shopping for an Enclosure
Suppose you are shopping for a puppy enclosure. In that case, you may have noticed that not all products are made the same or even with similar materials. 
Some companies advertised that their pens could be used indoors or out,  yet they were not waterproof, and they would quickly rust if left outside.
Over the years, I have purchased many different models of playpens for my offline breeding program.  Some were so flimsy that the dogs could open the doors and get out on their own.
One was made of plastic panels that the dogs loved to chew. 
One was constructed in a way that had a dog size door, but no way for a person to get in without disassembling it or crawl through the small opening.
Many pens on the market are made to be a set size that needs to be broken if you want a smaller enclosure.  If you need a more oversized pen, you need to get creative about putting two pens together. 
Once, I ended up attaching two puppy playpens together with electrical ties.  I was at a point where I believed that playpen designers and manufacturers never owned a dog in their life.

What to Look For In Your New Puppy Playpen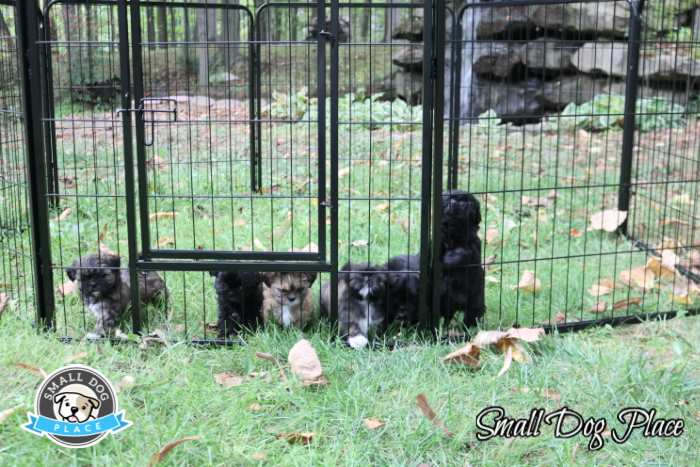 Topeakmart Puppy Playpens are a great hit with young puppies.
As a dog lover, I didn't feel that I was asking for too much.  All I wanted was: 
A sturdy, well-constructed pen that would be long-lasting
One that had doors that both people and dogs could use
A pen that was non-toxic and waterproof
One that would not rust
One that could be changed in shape to meet my needs.
A pen that was sturdy enough to withstand the strength of my small dogs
About the Topeakmart Puppy Playpen Review: 8 Panel 
One pen seemed to meet all of my needs.  If you want a safe and well-constructed playpen for use indoors or out, consider the Topeakmart 8 Panel Puppy Playpen. It is created with dogs in mind and for the person who cares for the dog.

Here are a few things that I love about the Topeakmart 8 panel puppy playpen:
Made of metal that is non-toxic, antirust, and waterproof
It has an open design so I can see the dogs inside, and they can see me.
The pen is created and comes with 8 panels that you connect with metal bars that drop in place.  With just these 8 panels, you can create a rectangle, square, or even an octagon shape, whatever your personal needs might be.
Even I could put this together by myself using no tools.  It comes with assembly instructions, but once you see the product, you realize that instructions aren't even needed.
It's equally easy to disassemble and move to a different room or outdoors.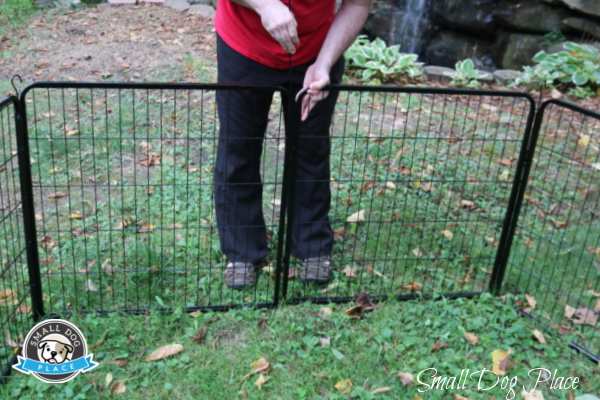 Assembling the Topeakmart Puppy Playpen
More About the Topeakmart Puppy Playpen
The photos in this article are of my own dogs using the 8 panel enclosure.  Topeakmart also sells 16 panel enclosures and you can chose your preferred height from three different sizes: 
24 inches (61 cm)
32 inches (81 cm)
40 inches (102 cm)
About Topeakmart, the Company
This company is relatively new, being created in 2020; their mission is to provide good quality pet supplies at competitive prices. 
Currently, their inventory includes supplies for dogs, cats, and birds. Still, a representative from the company assures me that their goal is to expand the product range.  
They want to ensure that pets are provided with comfortable products while giving them the convenience that pet owners deserve.  Shipping is accessible to the lower contiguous US states, free,  and products in stock ship in 2 to 7 days.
Final Thoughts about the Topeakmart Puppy Playpen
I love my dogs, but I also know dogs can get into mischief in the blink of an eye.  People love to interact with their dogs, walk, play, groom, and train.
Still, they can't be expected to be available to their precious pets continually.  That is where dog playpens come into play.  Pens will keep your dog safe, comfortable and happy when you are not interacting with them.  
Not all dog playpens are alike.  Some are obviously superior. I do recommend Topeakmart to provide a top-quality product and excellent customer service.
This is a product that you will keep for years to come so it makes sense to find one that not only your dog will love but one that will serve your purposes as well.
Check for Price and Availability of the Topeakmart Puppy Playpen on Amazon 
Or visit the dog play pen blog to learn more about other dog products currently available.
Pin for Future Reference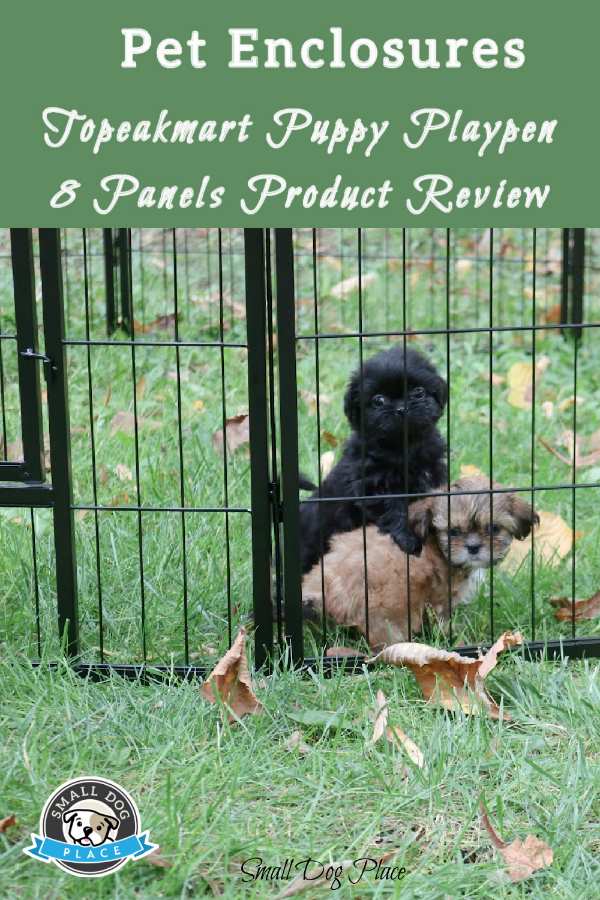 Topeakmart Puppy Playpen: Pin for Future Reference
-sponsored-
Does This Article Deserve Your Thumbs Up?
We always appreciate your support and encouragement.  Your thumbs up means so much to us.  Please like this article.
If you find this page or any page on Small Dog Place Helpful, or useful in anyway, I'd love it if you would click the small heart found on the bottom right of each page.
You can also share or bookmark this page -- just click on the: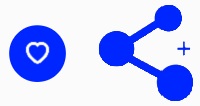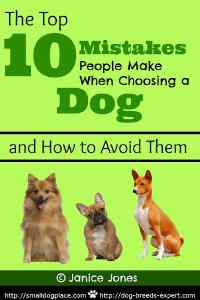 Free Monthly Newsletter
Sign Up for Our Free Newsletter and get our Free Gift to You.

my  E-book, The Top 10 Mistakes People Make When Choosing a Dog (and how to avoid them)