Back To Work Blues: 7 Tips To Keep Your Dog Happy
Back to Work Blues     by Emma Williams     |Published 04-08-2021
Finally, we can take a deep breath and exhale with ease. As of late March 2021, CDC reports indicate that more than 148 million people across the states had received the COVID-19 vaccine. More counties are relaxing travel restrictions and work-at-home directives.

But there is a downside. As you resume your previous routine, your furry friend will no longer have someone to keep him company which could lead to anxiety or separation anxiety.
We've got your back. Here are ideas on how to keep your dog happy and constructively engaged as you get back to work.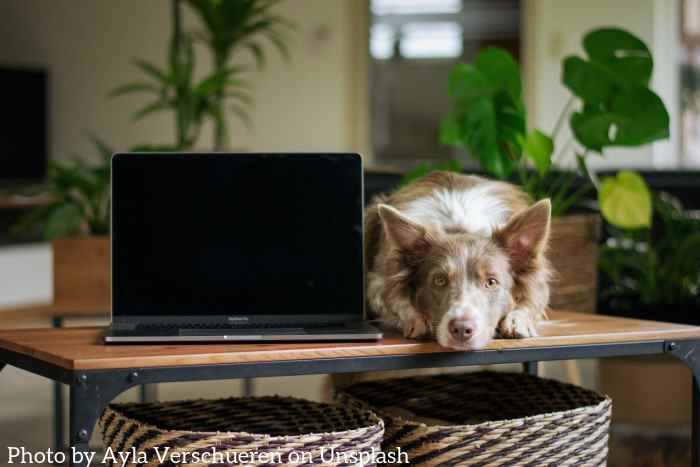 Back to Work Blues
6 Tips for Beating the Back to Work Blues
Get him a sibling (adopt another dog)
Adopting another dog may sound like a big commitment. But it is worth it. After all, going the extra mile for our loved ones (including pets) is not a big deal.
Here is why you should consider adopting another pet dog:
Single dogs do not socialize very well and can become aggressive.
Single dogs get bored and turn to destructive behaviors.
The two dogs will keep each other company and give each other emotional support.
Besides, having two dogs at home is more fun for you. As they play together, the urge to protect their territory is not so strong. But of course, you must teach them how to behave when strangers visit.
But, as the adage goes, two is better than one.
Schedule playdates
If adopting a second pup is too much of a commitment to make right now, how about getting him a best friend?
Do you have friends who also like canine companions? Of course, you do.
Reach out to one or two friends, and try working around your schedules so that your pets can enjoy playdates. It is an excellent and affordable way to keep your pup busy, especially if they (the dogs) already like each other. 
Your pup will be looking forward to the days he gets to hang out with his friends.
Hire a doggy sitter
Doggy sitters will provide human company whenever you are away. A professional sitter can do more than keep an eye on the dog while you are away. They can engage in exercise or learn new behavior skills.
Of course, you should interview a doggy sitter before engaging. You will be more comfortable when you know the pup is in safe hands.
But remember, it could cost you a pretty sum.
Consider doggy daycare
If you do not want to spend too much cash on doggy sitters, you may consider doggy daycare.

They operate pretty much like baby daycare facilities. Only that now your pup hangs out with fellow dogs under the watchful eye of a trained professional.
Like the doggy sitter, you could have questions for the doggy daycare. Go ahead and ask them.
As you may guess, highly socialized dogs enjoy this kind of environment. If your pup has not developed the social skills yet, make it a priority. Most behavior problems in dogs also stem from a lack of social skills.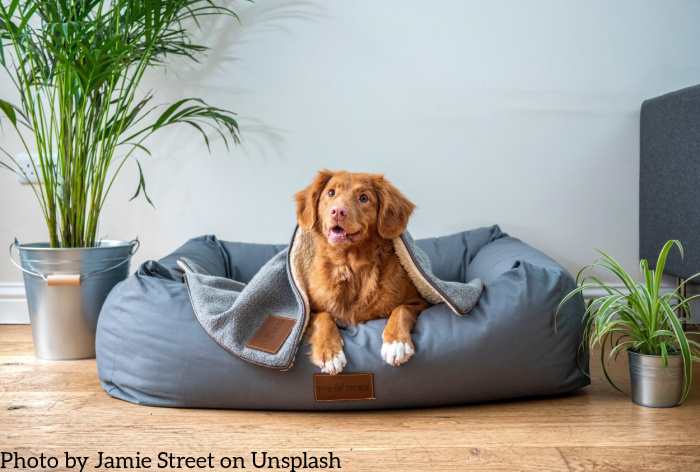 Back To Work Blues: 7 Tips To Keep Your Dog Happy
Treat-dispensing puzzles and toys
These are excellent for keeping your pet dog stimulated mentally and occupied for a long time. Puzzles engage your dog in simple mind exercises. Then your pup receives a handsome reward when successful. Puzzles keep the mind sharp and help older dogs to ward off cognitive dysfunction.
On the other hand, indestructible treat-dispensing toys work in the same way as puzzles. But they hardly stimulate the mind. Nevertheless, toys can keep your pup busy for hours while you are away.
You may want to get your pup warmed up on the puzzles. Otherwise, it could be frustrating.
Turn on the TV and/or open the curtains
You could switch on the television and leave it on when you are away. Keep the volume high. The sounds and flashes of light will keep the pup distracted.
Better still, turn to an animal-themed channel. The sounds made by other animals might captivate him and keep him busy while you are away.

If TV sounds extreme, consider leaving your curtains open and setting up a front-row seat for your pup.
He could spend the whole day gazing, and he'll be fine. But remember, there are many anxiety-inducing triggers out there. This method will only work if your dog knows how to keep his cool even when excited.
Remember to take him out for some exercise when you get back.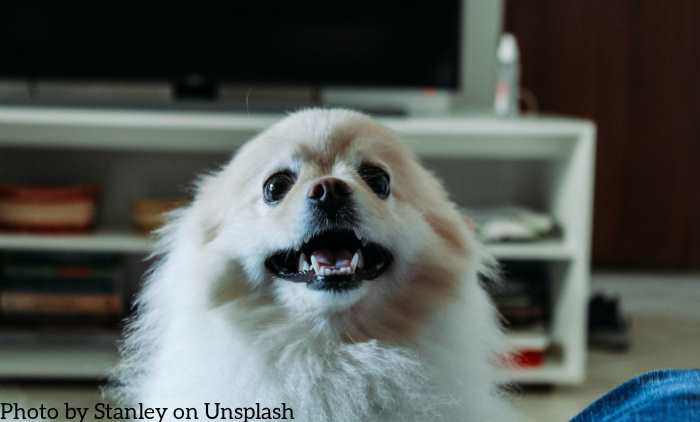 If your dog has the back-to-work blues, turn on the TV for him!
Set up a play area
Just as parents set up a kiddy play area at home or in office buildings, you can improvise one for your pup. Setting up a play area is better than having him caged up the whole day.

Check out that spare bedroom, laundry area, or garage. Use a pet gate to cordon off a section of the room. Then fill the space with toys and treats.
Last Words
Back-to-work blues are unfortunately unavoidable. But these tips will help keep your pup constructively occupied. In no time, both of you will get accustomed to the new routine. Who knows, you might even enjoy it.

Back to Work Blues, Final Tip
Remember the old saying, "a tired dog is a good dog."  If you can manage to walk or exercise your dog before you leave for work, your dog is likely to be ready for a long morning nap.  While you're hard at work, your dog will be quite content to sleep the hours away.
Back to Work Blues:  Author Bio
Emma Williams is an animal lover and pet parent of two four-legged friends, Indie and Beau. She is a professional writer who has been featured on News 9, Fox News, plus lots of pet publications. She currently lives in Sydney, Australia and works for PetBucket.com

More Articles by Emma Williams
Does This Article Deserve Your Thumbs Up?
We always appreciate your support and encouragement.  Your thumbs up means so much to us.  Please like this article.
If you find this page or any page on Small Dog Place Helpful, or useful in anyway, I'd love it if you would click the small heart found on the bottom right of each page.
You can also share or bookmark this page -- just click on the: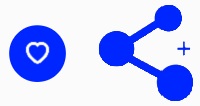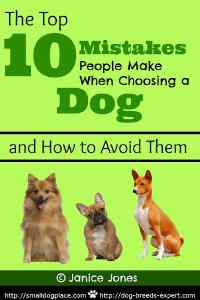 Free Monthly Newsletter
Sign Up for Our Free Newsletter and get our Free Gift to You.

my  E-book, The Top 10 Mistakes People Make When Choosing a Dog (and how to avoid them)