Why Should Dogs Wear Snug Dog Collars?
Snug Dog Collars by Dr. John Brooks   |Published November 4, 2019
Dog collars come in various sizes, types, and materials for all dogs. No matter if they are short, huge, fluffy or scary, they always have to wear the collars when they are owned by a human. There are two purposes of the dog collar.
One to put your dog tag on your dog so that the authority members of animal shelters do not take your dog away and second is to hold your dog in one place.  This is especially important when you are taking them for a walk to their favorite spot.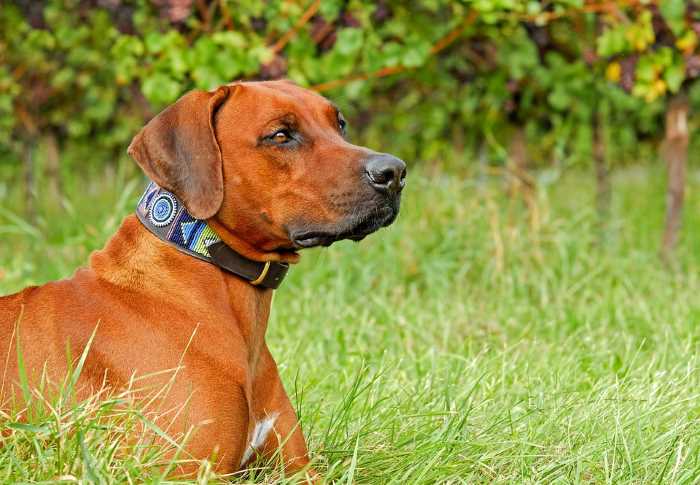 Snug Dog Collars can be just as beautiful as they are practical.
I can seriously bet on this one, your dog will not stay attached to your legs when he is at his favorite place. He will surely not miss even a single chance to live his life to the fullest, while making you anxious and worried about him.
A collar and a leash on your pet dog will help here by all means. It will be your most powerful and in some cases, your only weapon to get hold of your dog. 
Now the question here is why dogs should wear a tight collar. Well, they wear a tight collar because their owners make them wear tight collars. So the thing to think is why owners choose tight collars for their dogs when they can choose a loose collar for them. 

A collar that's too loose 
Common sense solves this mystery, and in some rare cases, a bad experience can also help when your dog runs away while the collar is still in your hand. If the collar is loose, of course, it will not be able to get a hold of your energetic and zestful dog. 

So to keep your dog in control, you need something tight, which restricts him from deceiving you on road. Furthermore, if the collar is loose, your dog can get rid of it while sleeping or playing.
When your dog goes outside without a collar, the animal shelter team will surely take him away from you. Yeah! You will be posting about "Missing Dog" and reporting in the Police station. I bet you do not want this situation to happen. 

A collar that's too tight
Well, let me share another worst-case scenario. How about your dog is playing, and somehow his loose collar will get stuck with something. In his try of getting rid of it, your dog can suffocate and can bear the pain. That's why we suggest a tight collar for your dog, and that's why you should never opt for the loose collar.

Rule to check the collar size of Dog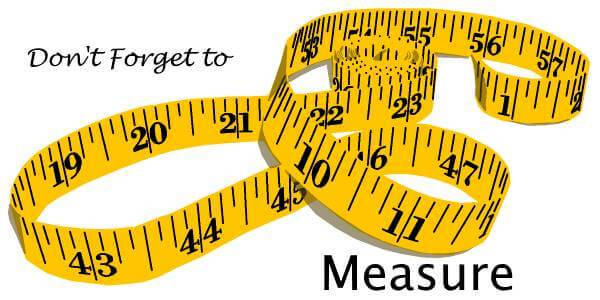 The best way to assure your dog is wearing a tight collar is to measure his neck.
Although there are standard sizes for dog collars. You just have to check which collar size suits your dog, and then you order that collar. However, how do you know which size will be best for your dog?
If you are ordering a collar online, the best way is to measure your dog's neck and order the size that is closest to your measurements.  Better yet, take your dog shopping.  He can try on the collar.  Use the two finger rule. 
Slip two fingers under the collar.  If you can do this easily, the collar is just right.  If you can slip more than two fingers, then the collar is too loose.  If you can't fit two fingers under the collar, then you will need to loosen it to make it more comfortable for your dog.
Remember the old Goldilocks Principle:  Not too tight, not too loose, but just right.  
Point to Ponder Before Purchasing Snug Dog Collars
Always remember puppies grows every day. When you have a puppy, you must check that the collar is not that tight. Replace as it gets too tight.  An adult dog will not grow at such a fast pace. However, you still have to check it periodically because your dog cannot talk and he will surely not tell you that he is suffocating. 

Width of Snug Dog Collars
Once you have a collar that is the proper length, turn your attention to the width. If the collar is way too wide for the dog, he may choke or suffocate. While on the other hand, a collar too thin or narrow will cause trouble when walking your dog. You want the collar to fit comfortably so the dog forget's he's even wearing it.
Collars come in various widths so check sizes.  Some companies will allow you to customize the width while others are standard sizes.  A typical collar for a small breed dog would be 5/8" but you may want to consider something smaller for a young puppy learning to wear a collar, such as a 1/4" collar.  Collars that come in 3/4" or 1" should be used on larger dogs.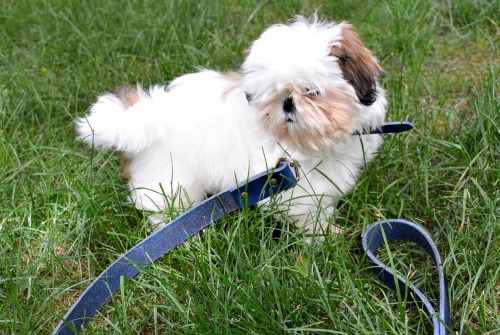 This collar is too wide and heavy for a small puppy.
Kinds of Snug Dog Collars
As I mentioned above dog collars come in multiple sizes, types, and materials. It means you always have a wide variety of things to choose from. It does seem like a good thing, but choosing one item from hundreds is undoubtedly a difficult task. That too, for a dog, you love more than your kid. 

When taking your dog out for a walk you will put a leash on your dog's collar. So for this purpose, you should opt for a martingale dog collar especially if you have a dog that you are training not to pull.  The walking collar should not be too loose that it comes out of the dog's neck. On the other hand, it should not be so tight that when your dog tries to pull on the leash, he suffocates. Choose the collars made up of softer materials so that your dog can have a quiet walk, and he does not choke.

Snug Dog Collars:  Leather collars
One of the most common type of dog collars is made of leather. They not only look classy, but they are quite durable and light too. It does not hurt the dog when he wears the leather collar as it feels light. While on the other hand, collars of different materials can hurt your dog. Or in the worst case, they can result in bad allergies. 

Snug Dog Collars: Plastic collar
In contrast to leather collars, there are plastic collars in the market too. Synthetic collars are so cheap, and they come in various colors and styles, but they are usually not comfortable.
Besides, you should not take the risk. Imagine your dog going near a heat source,  the plastic collar will heat up quickly and even begin to melt, causing severe pain to your dog's neck. Then you will have to take him to the doctor and see him in pain, while he recovers slowly.

Snug Dog Collars: Nylon Collars
Another very common type of collar for small dogs is made out of nylon.  They come in virtually every color and pattern imaginable and some come to match the color of your leash.  If you walk your dog at night, consider a reflective one.  
If you want to get fancy, there's plenty to choose from
Snug Dog Collars: Fancy Collars
You get to wear a new and matching dress for every event why not your dog? Your dog must have an elegant and classy dog collar for every occasion, right?
For example, you can get a Christmas collar, or a Halloween one. The best thing is that you can get customized collars too from the dog market. How about getting your dog a wedding theme related collar. Yes, he will be winning hearts at the party. The cute little being will be the handsome buddy in the whole function.
For everyday use, consider a bow-tie collar, which is one that comes with a detachable bow-tie or bandanna.  For the girls, choose a collar complete with a flower, star, or even jewelry.  
Snug Dog Collars:  Barking collars

Barking collars are usually used for puppies or dogs who bark too much. They can be pretty expensive, and sometimes they look odd too. But your dog's training is more important, right? So get this barking collar if you have a very yappy dog.  The only way the collars work well is if you pair them with a regular training schedule.
Dog harness Vs. Snug Dog Collars
You do not always have to buy a collar for your dog. There are pretty good alternatives too. One of them is a dog harness. Although harness can be a bit uncomfortable for your dog at first, it all depends upon the way you tie it.
The advantage of using a harness instead of a dog collar is that your dog will not choke while walking. Besides, the dog identification will also stay attached to the harness, so somebody will definitely return him if he gets lost somewhere.
Although there are no fixed sizes for the harness and you can manually extend or tighten to the size of your dog.  But still, you need to make sure that the harness is not too tight around the neck of your lovely dog. 
Choose a dog harness if you have a brachycephalic breed or a small dog prone to trachea problems.
Final words About Snug Dog Collars
It does not matter how old dog is, you will always need a collar for him. If you feel that your dog is uncomfortable or is in pain, then do loosen his collar. He can be suffocating because of the tight collar. While on the other hand, if you see your dog moving without a collar, chances are that the collar is too loose and that you need to tighten it around his neck.
There are multiple options for you to choose from when it comes to choosing a perfect collar or harness for your dog. For some specific occasions, you can also get customized and fancy collars. However, you need to check regularly that the collar is not too tight and not too loose for your dog to avoid unwanted situations.
We hope we have provided you with enough information regarding why you should choose a tight collar for your dog. Also, we have told you about some types of standard dog collars. If you liked our blog do not forget to share it with your community and dog lovers. This is an essential piece of information which usually people do not bother about.
Author Bio (Snug Dog Collars)
John Brooks is a veterinary surgeon who manages a lot of calls for pet services while also maintaining a quality lifestyle. He has graduated in surgery and veterinary medicine in 1997 and has helped in several small animal practices until 2005 before shifting to critical care and emergency.
Dr. Brooks loves animals from the core of his heart. Whenever he gets time, he tries to write regarding animal health so that all pet lovers like you don't fall in any hazardous situation. 

Does This Article Deserve Your Thumbs Up?
We always appreciate your support and encouragement.  Your thumbs up means so much to us.  Please like this article.
If you find this page or any page on Small Dog Place Helpful, or useful in anyway, I'd love it if you would click the small heart found on the bottom right of each page.
You can also share or bookmark this page -- just click on the: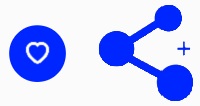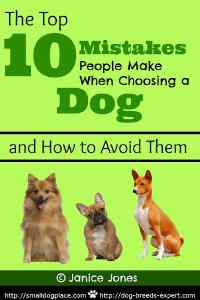 Free Monthly Newsletter
Sign Up for Our Free Newsletter and get our Free Gift to You.

my  E-book, The Top 10 Mistakes People Make When Choosing a Dog (and how to avoid them)