How to Teach Your Dog to Swim in a Pool
Teach Your Dog to Swim  by Clara Lou  |Updated 06-14-2-22
Whether your dog is a swimmer or not, you need to teach them how to swim in large bodies of water before they start swimming on their own.   
This is particularly important if you own a backyard pool and your dog has access to it.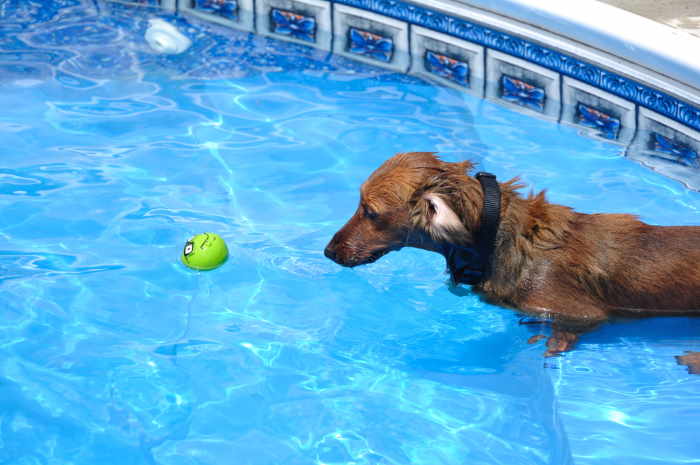 How to Teach Your Dog to Swim
Many natural swimmer dogs get overwhelmed when they are introduced to water for the first time. That said, you need to make your pooch comfortable around water bodies and need to teach them how to swim. In this article, we will discuss swimming lessons 101.

Choose a warm day for swim lessons because you will get wet.   Most dogs awake their swimming ability and master it on the same day they are given an opportunity.

Life Jackets For Dogs
Some dogs are natural swimmers, and some are not. But regardless of that, each dog that often has to be around large water bodies need to put on a life jacket. Ensure that the jacket fits snugly to your dog and is of high quality.
Moreover, most life jackets come with a D-ring on top of it, allowing you to attach a leash. When you are teaching your dog to swim, keep your dog leashed. That way, your dog will stay near you in the pool and is an additional safety measure. Apart from a life jacket, you will need treats and toys that float to teach your dog to swim.

Where Can You Teach Your Dog to Swim?
The ideal place for teaching is a public or a private pool. However, if you decide to go to a public pool, make sure it's not too crowded and it allows dogs to swim.  On the other hand, if you live in the countryside and you can choose an area of water that you trust and know to be safe.
A freshwater shallow pond or a lake is ideal. Avoid going to a river unless you're well familiar with the spot and is neither fast-flowing nor deep. Also, water shouldn't be murky, contain a lot of water plants, leads to a fast-flowing water zone, or have sudden depth changes.

Moreover, if your dog loves the company of other pooches and people, an area with people around would be just fine. Make sure that the place allows dogs.

Know Your Dog
Before you decide to take your pooch to a pool, find out if your breed is cut out to be a swimmer.

Dog Breeds that Love the Water
Many large breed dogs love water and enjoy swimming.  Breeds such as Chesapeake Bay Retrievers, Newfoundlands and Portuguese Water Dogs are naturals.  But, some small breed dogs like the Poodle, Beagle, Schipperke, and Cocker Spaniel also take to the water and enjoy a refreshing swim.

Dogs that Hate the Water
Some dogs don't like water, and some can't swim. If it turns out your dog shouldn't swim, drop this idea. Nevertheless, you can get a small dog pool and allow her to let enjoy the cool water in your backyard.
Chihuahuas, Shih Tzu, Pekingese, and Maltese generally don't enjoy water.  Yorkshire Terriers aren't fond of swimming either, but put a Yorkie under a faucet of running water and watch his front paws paddle away.
There Are Always Exceptions to Every Rule
This is Lolli-Popsicle from Ohio (USA) and she's just as happy in the water as she is on dry land.  Her owner, Cathee Mulcahy reports that this little tadpole never require a single swim lesson.  It was love at first sight - jump in -- swim --enjoy the cool water on a hot summer day.
Dogs that Can't Swim
Some dogs simply can't swim due to their body build.  You may have thought that all dogs should be capable of swimming because, after all, they gave their name-sake to a common swim stroke, the "dog paddle."
If you have a brachycephalic breed, one with short legs or ones with thick, heavy chests, then you may be disappointed that your dog doesn't learn how to swim.  Pugs, Bulldogs, and Welsh Corgis,  are not likely to even care to learn.
Even though these dogs that can't swim or prefer not to, they can still enjoy a cool shower or dip in a kiddie pool especially on a hot sunny day.
Before You Can Teach Your Dog to Swim, You Need to Get Them Used to Water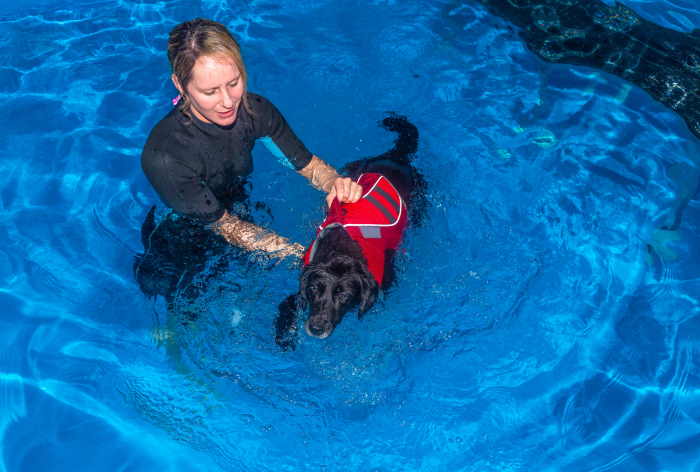 Teach Your Dog to Swim
If your dog is a water loving dog such as a poodle, who is always curious about getting into a body of water, teaching him will be easy.   
For these dogs, use a ball or a toy that can float and toss it into the shallow water where your dog can still stand.

Encourage your dog to get the ball. If she does that without instructing, reward her with treats. Repeat this until your dog seems to enjoy wetting her paws. Don't forget to leash your dog and use a life jacket.

Teach Your Dog to Swim:  What's Next
Take enough breaks for drinking water and poop. You wouldn't want your dog to drink water from the pool or natural body of water as it is harmful to them.
Like humans, dogs, too, accidentally gulp little water. Still, you need to make sure that your dog doesn't drink water from the pool intentionally and build the habit.  Dogs can also be exposed to parasites and water-borne diseases if they drink water from lakes, ponds, or rivers.

Swim Lessons, Doggie Style
Introduce Your Dog to Waist-deep Water
Now pick up your dog and get yourself to waist-deep water. Hold her with one hand under her belly and place her in the water. Do this gradually so that they maneuver paddling while still feel safe.
The life jacket will provide the buoyancy, and your dog won't have to put much effort into keeping her head above the water surface. Moreover, if your dog gets freaked out, lift her up, and repeat from the beginning.
Allow Your Dog to Feel Comfortable and Confident
Keep doing this until your dog is calm and comfortable with this practice. Now repeat the process, and this time, let your dog stroke the water confidently and look for her calmness and sureness.
Once you realize she's ready, slowly remove your support and let her swim. Again, don't forget to leash your pooch.

Teach Your Dog to Find His Way Out of the Pool
Now, direct your dog towards the shore or side of the pool or tell your dog to follow you. This is important because if your dog goes swimming by herself in your absence, she at least knows the way out of the pool. Repeat this process so that your dog can learn how to get out of the pool.

Practice Makes Perfect
Practice this process a few more times. Your dog should swim without realizing she's doing something she had never tried.  Your dog will improve in no time and can also swim without a life jacket. However, I recommend you to use a life jacket all the time. This especially helps when your dog gets tired amidst the large water body or moving water.

Pin for Future Reference
Author Bio "Teach Your Dog to Swim"
Clara Lou is a co-founder and the marketing head at Petlovesbest.com. She happens to be an active animal activist in her town who has done a few notable works for the welfare of animals, especially pets. She loves to enjoy writing about pets and animals. 

Did You Find "Teach Your Dog to Swim" Helpful? 
Does This Article Deserve Your Thumbs Up?
We always appreciate your support and encouragement.  Your thumbs up means so much to us.  Please like this article.
If you find this page or any page on Small Dog Place Helpful, or useful in anyway, I'd love it if you would click the small heart found on the bottom right of each page.
You can also share or bookmark this page -- just click on the: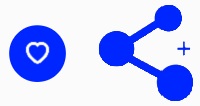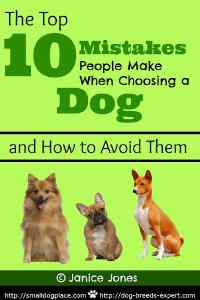 Free Monthly Newsletter
Sign Up for Our Free Newsletter and get our Free Gift to You.

my  E-book, The Top 10 Mistakes People Make When Choosing a Dog (and how to avoid them)