Pet Food Trends for 2020
Pet Food Trends for 2020    by Emma Williams    |Published January 25, 2020
The American Pet Products Association has concluded that the pet industry is experiencing phenomenal growth. Nearly 70% of Americans own a pet. That is up from 56% in the 1980s. Increased pet ownership has affected all aspects of the pet industry, including pet food. 
As pet ownership has risen in the younger generation, a focus on pet health has taken precedence. Just as humans have become more aware of our food, we have also begun looking closely at the dog food labels of what our pets eat. The pet food trends for 2020 represent this growing awareness of food quality for us and our pets. 

What Do Small Dogs Eat?
Before you understand the pet food trends for 2020, you have to know what pets eat. Your pet's diet will be determined by its species and age. 
Dogs need a variety of meat and vegetables. Whether or not dogs need grains is a highly debated topic.
We will address it later in this article. In general, you want at least the first ingredient to be meat. That indicates that a protein is the most popular ingredient in the food. As small dog owners, we all understand how hard it can be to ensure our pups have the correct nutrition - especially when it comes to food for puppies, who need specific vitamins and nutrients to help grow strong and healthy.
That is why reading the label is so important. 
On the other hand, cats are predators, which means they should consume mostly moist, meat-filled food. Vegetables and grains are not as essential for a balanced cat diet. 

Historically, pet food has included corn and other fillers. If you examine a bag of Dog Chow, corn will likely be the first ingredient. You definitely don't want this for any of your pets.
The move towards a species-specific diet has occurred in the last decade or so. The demand for high-quality and protein-packed pet food is likely not slowing down anytime soon. 

Pet Food Trends for 2020
Pet Food Trends for 2020: Look for organic, sustainable, and local.
Food appropriate and healthy for pets is not the only pet food trend likely to continue this year. Let's examine some other major pet food trends for 2020. 

1) Organic/All-natural
As with human food, there is a large demand for organic or, at least, all-natural pet food. But what do these labels really mean?

Often when consumers use organic or all-natural, they are indicating that they want food with whole, natural, and non-GMO ingredients. The ingredients should also be human-grade. Whole foods—the term, not the store—are foods that are as close to their natural form as possible.
Consumers want pet food that lists actual protein, fruits, vegetables, and grains, not their chemical counterparts. For example, you should see carrots (or Daucus carota var. sativus, its scientific name) on a pet food label, not the chemicals like beta-carotene, that make up a carrot. Chemicals can be made in a lab, whole foods cannot. 

Natural and organic are terms that describe the way the whole foods are grown. Pet owners want ingredients that are not sprayed with harmful chemicals, which is why many are turning to homemade dog food or homemade cat food.
Finally, GMO describes the way an ingredient comes into being. The label tells you whether the plant is created in a lab or has evolved naturally over the centuries. 

Trends indicate that whole food, natural/organic ingredients, and non-GMO ingredients are extremely important to pet owners in 2020. 

2) Sustainable
Sustainability describes the economic, environmental, and social consequences of an action. Most sustainable initiatives occur because of concerns about the state of the climate and Earth as a whole. 
In pet food, consumers are demanding food that includes sustainable ingredients, packaging, and operations. Sustainable sourced ingredients are a major selling point. Eco-friendly and recycled packaging has also gained in popularity. 
3) Small and Local
As part of the sustainability trend for pet food in 2020 is the demand for pet food from small and local providers. Consumers no longer purchase their pet food solely at box stores like Petco. Instead, they are frequenting locally owned and operated stores. These locations are more likely to stock small pet food brands local to the area. 
Consumers are more interested in these small, local companies than in larger pet food brands. Small and local brands have become synonymous with quality.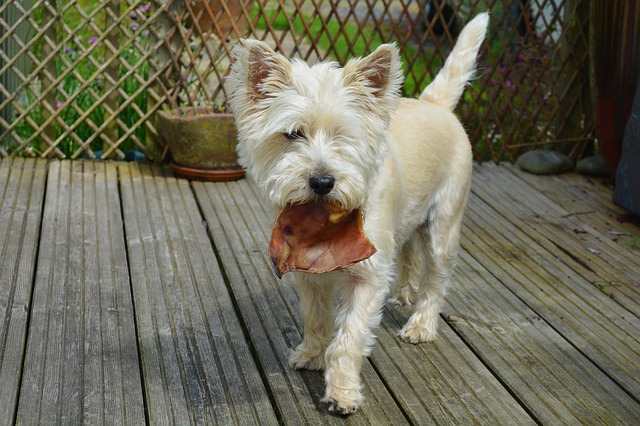 What About Gluten and Grain-Free?
While this is a long and complicated topic, it is worthwhile discussing it in brief here. Gluten and grain-free dog foods have been very popular in the last decade or so.
As vegan and vegetarian lifestyles in the U.S. have trended up, so has gluten and grain-free food. In fact, in the U.S., there has been a 600% increase in people identifying as vegans in just the last three years. Vegans are also likely to want to provide a vegan lifestyle to their dogs.
Clearly, vegans and vegetarians are on the rise. But, in the last year, concerns about grain-free pet food have been raised by the FDA. The FDA is investigating a link between canine dilated cardiomyopathy and certain grain-free foods. No definitive link has been found at this time. 
If you have any questions or are concerned about gluten or grain-free diet for your pet, we recommend you begin a discussion with your vet. 
Conclusion
As a more significant number of people around the world choose pets, the pet food industry will only continue to grow. Pet food trends in 2020 are similar to those from recent years. But, only time will tell how the verdict falls on the grain-free debate. As always, if you have any questions about the right pet food for your small dog, discuss the options with your vet. 

Pin for Future Reference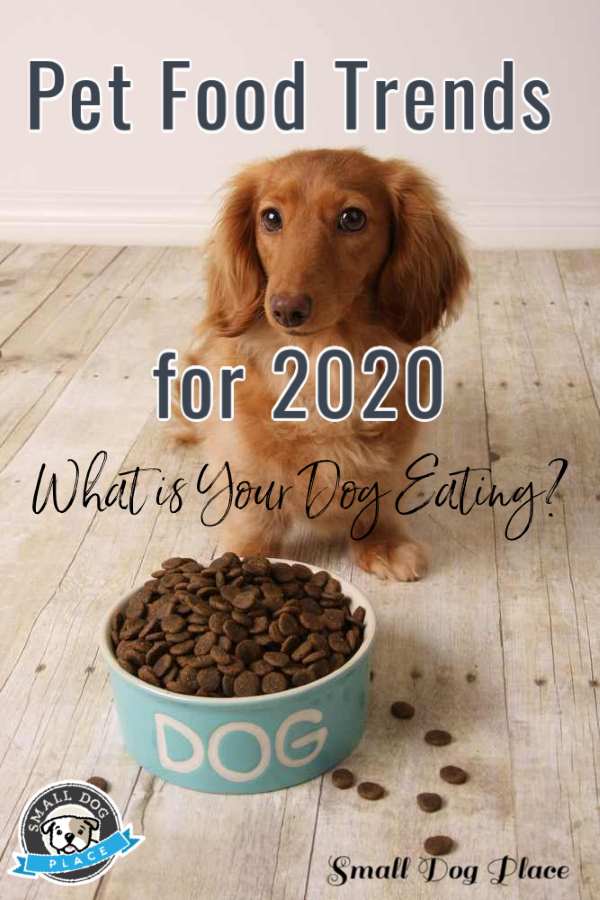 Pet Food Trends for 2020: Author Bio
Emma Williams is an animal lover and pet parent of two four-legged friends, Indie and Beau. She is a professional writer who has been featured on News 9, Fox News, plus lots of pet publications. She currently lives in Sydney, Australia and works for PetBucket.com
Does This Article Deserve Your Thumbs Up?
We always appreciate your support and encouragement.  Your thumbs up means so much to us.  Please like this article.
If you find this page or any page on Small Dog Place Helpful, or useful in anyway, I'd love it if you would click the small heart found on the bottom right of each page.
You can also share or bookmark this page -- just click on the: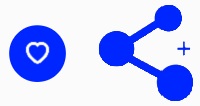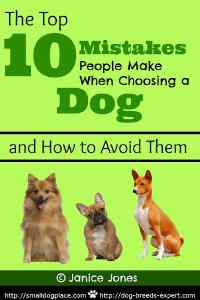 Free Monthly Newsletter
Sign Up for Our Free Newsletter and get our Free Gift to You.

my  E-book, The Top 10 Mistakes People Make When Choosing a Dog (and how to avoid them)