Trifo Ollie AI Robot Vacuum Review
Trifo Ollie AI Home Robot Vacuum Review
Trifo Ollie AI Home Robot Vacuum Review   by Janice Jones
Published 07-16-2022
Have you ever noticed how much more dirt, dust, and pet hair accumulates on your floors in the summer? Even if you don't have a seasonal shedder, the work to keep your home clean seems to increase exponentially in the warmer months.
Of course, for most dog lovers, summer is not the time we want to be indoors dusting and vacuuming the floors. Let's face it, dogs can be messy, and daily cleaning is not something most people care to do. Then there was Trifo Ollie AI Home Robot Vacuum.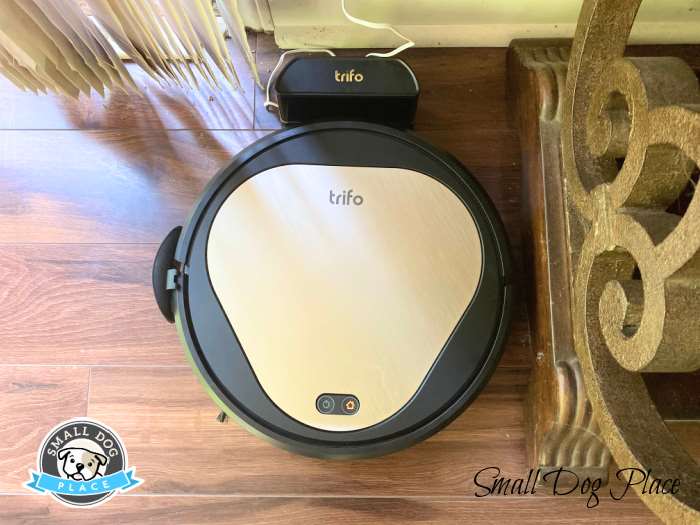 We've had the opportunity to test out Olie in our 13-dog household, and I'll be the first to announce that it made a huge difference.
Even my dogs, which are not big shedders, leave plenty of dander and hair in their path, not to mention all the dirt and dust they track into the house on their paws.
Everyone in my family who takes turns vacuuming has given Trifo Ollie a big thumbs up.  Not only do we feel it has left our floors cleaner, but it has also been a big-time saver.  

According to Ollie's designers, the robot vacuum was designed especially for pet owners with the hope that you would spend more time enjoying your pet and less time cleaning up all of their messes.
This very powerful machine does much more than your typical robotic vacuum currently on the market.

But let's first talk about its cleaning abilities. It works on all floors, including hardwood, tile, and carpet.

Cleaning Capabilities of Trifo Ollie AI Robot Vacuum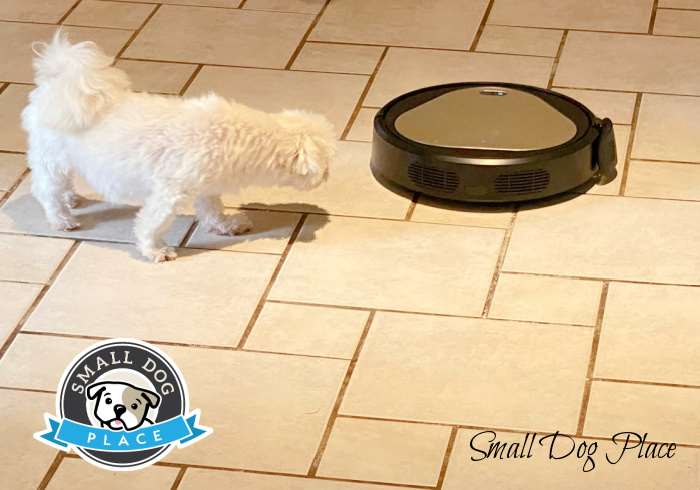 It has a 4000Pa suction and six-sided claw brush, meaning no pet hair, lint, dust, dirt, or crumbs will escape Ollie's pathway to clean.
The vacuum also came with a built-in HEPA filter and activated charcoal filter that can capture allergens and keep the room's air clean and fresh.

Ollie has a pet hair extractor to help prevent hair from getting caught in the brushes. This is a big plus in my opinion. How often have I had to stop and clean the bushes with a conventional vacuum before proceeding to the next room?
The main task you will need to do is empty the dust bin when it's completely full but don't worry, the dust bin has a capacity of 600 ml.

This little power machine offers much more than a simple but thorough clean for the tech-savvy dog lover. Check out these additional features that make the Trifo Ollie unique.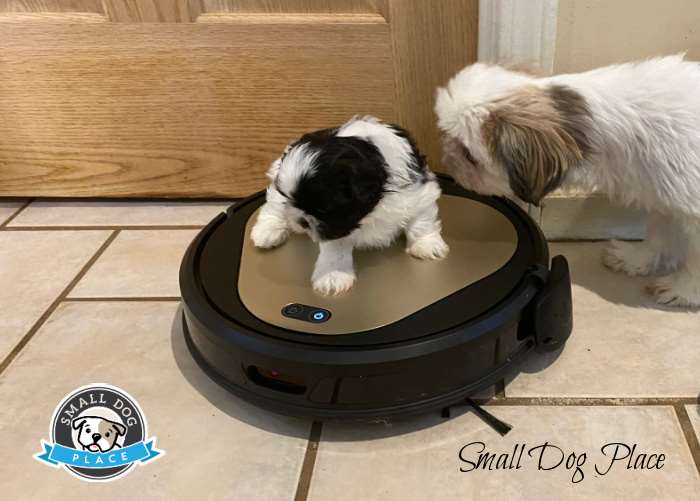 Trifo Ollie is being tested on the ceramic tile floor with the help of a four-week-old puppy.
More Features that Make Trifo Ollie Unique
In addition to its cleaning features, this robot vacuum has the industry's first built-in laser pointer and a 1080P HDR camera that can be used to listen to, talk, and even record your pets whenever and wherever you might be.

Ollie can also identify movement when you are away, so you can receive a real-time view of your rooms day or night.  
The camera also doubles as a Time-of-Flight camera, detecting objects even in low light, meaning that Ollie can clean up at night while you sleep.
The laser pointer is detachable and can be used to distract pets that might otherwise be just too curious for their own good. If you have a dog or cat wary of the vacuum, a laser pointer might be the perfect training tool to help desensitize him or her by creating a diversion.
The system is powered by AI and has some great innovative features. Pair it with Alexa or Google Home, and you can use voice commands to stop or start the operation. If you don't have either of these smart speakers, you can use the Trifo phone app to control and customize your cleaning process.
Another great feature of the Trifo Ollie is its ability to map rooms. If you like, you can also set areas where you don't want the robot to go. There is also much more customization that can be done by tweaking your smartphone's app.  
One feature that I found particularly helpful was Ollie's ability to scoop up dust and dirt on a variety of different types of floors.  Since most of my home has ceramic tiles, vinyl, and laminate, it was easy to see how the dirt disappeared when Ollie moved over it.  But what's better is its ability to go between rugs and hardwood floors.  AND it did just as good a job on my carpets as it did on any of the other flooring.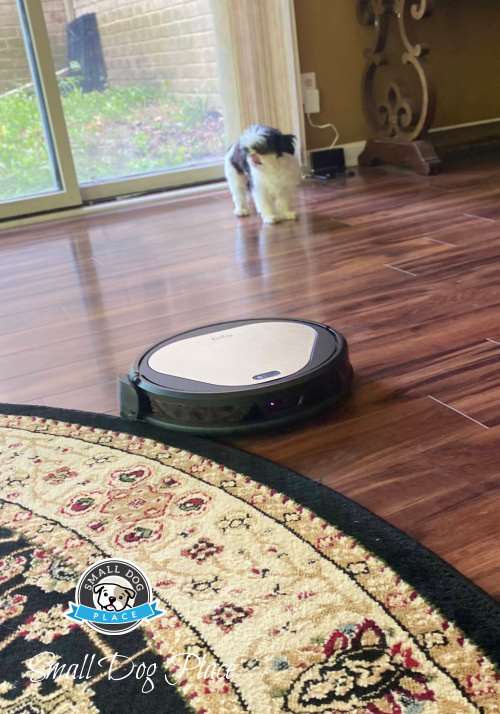 Ollie has spotted a rug and is maneuvering from a hard floor surface to the rug.
More Great Features
After charging, the robot will run for up to 120 minutes on a single charge. That means that it will clean roughly 2000 square feet on one charge.
You won't need to stop to empty the dustbin in mid-vacuuming because it also has a 600 ml capacity bin that will likely hold everything even the dirtiest of floors can provide.

Trifo Ollie AI Robot Vacuum Review
Pin for Future Reference
What I Like, What I Dislike
Pros
Exclusive Pet Features Including the No Tangle Pet Hair Extractor
Laser Pointer
Refillable Air Freshener (Optional)
Ability to map out entire rooms
Capable of avoiding obstacles, including steps, furniture, or other objects in the environment
Can work to clean your floors day and night
The runtime of up to 2 hours with one charge
Controlled by voice (Alexa or Google Home) or app
Cleans exceptionally well on all hard surfaces, including tile, vinyl, hardwood, and carpet.
Does not miss any dust, dirt, or pet pair.
Price is very competitive
Cons
Set up is lengthy (especially if you're not tech savvy)
Not for anyone who struggles with technology.
Has difficulty navigating between hard surfaces and area rugs initially.
Limited Time Special Pricing from Trifo
List Price: $299.99

Final Price: $219.99
$50 Coupon: on the product page
10% Claim Code: CV23AMWG
Valid until July 31
Last Words
This robotic vacuum was especially designed to pick up pet hair. The built-in camera and laser pointer make it unique among other robot cleaners. Best of all, the price is very competitive at $299.99, which is a great value.

Note About This Review
Small Dog Place received a Trifo Ollie AI Home Robot Vacuum to review but was not compensated for this review.
Does This Article Deserve Your Thumbs Up?
We always appreciate your support and encouragement.  Your thumbs up means so much to us.  Please like this article.
If you find this page or any page on Small Dog Place Helpful, or useful in anyway, I'd love it if you would click the small heart found on the bottom right of each page.
You can also share or bookmark this page -- just click on the: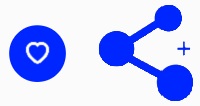 Your second block of text...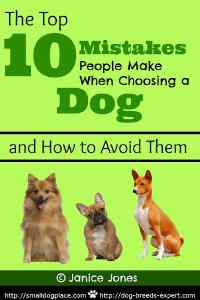 Free Monthly Newsletter
Sign Up for Our Free Newsletter and get our Free Gift to You.

my  E-book, The Top 10 Mistakes People Make When Choosing a Dog (and how to avoid them)